Basic Guide to Dental Procedures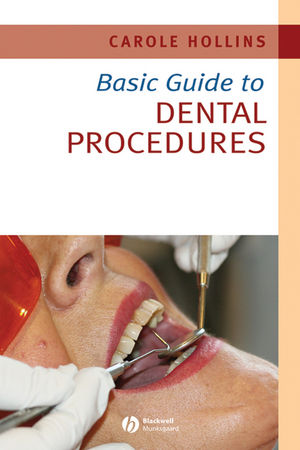 Basic Guide to Dental Procedures
ISBN: 978-1-118-70261-1
May 2013, Wiley-Blackwell
152 pages
Description
The Basic Guide to Dental Procedures provides an indispensable induction to the core preventative and restorative treatments routinely carried out in the modern dental practice.


Written as an introductory guide for the whole dental team, it makes no attempt to explain the theory and clinical technique behind each procedure in detail. Rather, with the aid of 'before and after' colour illustration it offers sufficient overview to enable the reader to understand and explain procedures to their patient with confidence.


Each section is clearly structured to cover the reasoning behind the treatment described, the relevant dental background, the basics of how each procedure is carried out and if applicable, aftercare information.
SECTION 1 Preventive Techniques.
Application of Fissure Sealants.
Application of Topical Fluorides.
SECTION 2 Oral Hygiene Instruction.
Use of Disclosing Agents.
Toothbrushing.
Interdental Cleaning.
SECTION 3 Scaling and Polishing.
Scaling.
Polishing.
SECTION 4 Diagnostic Techniques.
Use of Dental Hand Instruments.
Dental Radiographs.
Study Models.
SECTION 5 Tooth Restoration With Fillings.
Amalgam Fillings.
Composite Fillings.
Glass Ionomer Fillings.
Aftercare.
SECTION 6 Tooth Restoration with Crowns, Bridges or Veneers.
Crowns.
Aftercare.
Bridges.
Aftercare.
Veneers.
Aftercare.
SECTION 7 Tooth Restoration with Endodontic Techniques.
Pulp Capping.
Pulpotomy.
Pulpectomy.
Aftercare.
SECTION 8 Tooth Extraction.
Simple Extractions.
Surgical Extractions.
SECTION 9 Tooth Replacement with Dentures.
Full or Partial Acrylic Dentures.
Full or Partial Chrome Dentures.
Immediate Replacement Dentures.
Aftercare.
SECTION 10 Tooth Replacement with Implants.
Single Tooth Implants.
Aftercare.
SECTION 11 Tooth Alignment with Orthodontic Braces.
Removable Appliances.
Fixed Appliances.
Aftercare.
SECTION 12 Tooth Whitening.
Home Whitening Using Trays.
In-house Power Whitening.
Aftercare


Illustrated in full colour throughout

Invaluable introduction to the core procedures in modern dental practice

Suitable for the whole dental team