Basic Guide to Oral Health Education and Promotion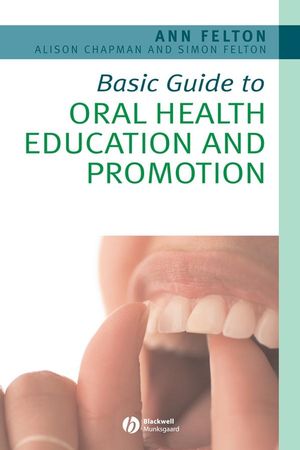 Basic Guide to Oral Health Education and Promotion
ISBN: 978-1-118-69347-6
Jul 2013, Wiley-Blackwell
296 pages
Product not available for purchase
Description
The Basic Guide to Oral Health Education and Promotion is the step by step course companion for dental nurses studying for the Certificate in Oral Health Education. In addition it is an invaluable resource for other members of the dental team and health professionals involved in educating and promoting oral health to patients and the wider general public.


Each chapter looks at a different aspect of oral health education and promotion in line with the NEBDN syllabus, yet is written in logical sequence for the benefit of those not studying the exam and those in professions other than dental nursing. Topics covered include dental structures, anatomy and physiology, oral diseases and prevention, the principles of education, oral health and society, promoting oral health in the 21st century, patient communication, project planning and workplace assignments.
Foreword.
Preface.
Acknowledgements.
Section 1: Structure and functions of the oral cavity.
1. The oral cavity in health.
Section 2: Diseases and conditions of the oral cavity.
2. Plaque, calculus and staining.
3. Chronic gingivitis.
4. Chronic periodontitis.
5. Other oral diseases.
6. Caries.
7. Tooth surface loss and sensitivity.
8. Xerostomia.
Section 3: Oral disease prevention.
9. Food, glorious food.
10. Sugars in the diet.
11. Fluoride.
12. Fissure sealants.
13. Smoking cessation.
Section 4: Delivering oral health messages.
14. Communication.
15. Principles of education.
16. Setting up a preventive dental unit.
17. Planning an oral hygiene session.
18. Anti-plaque agents.
19. Practical oral hygiene instruction.
Section 5: Oral health target groups and case studies.
20. Pregnant and nursing mothers.
21. Parents of pre-11-year-olds.
22. Adolescent and orthodontic patients.
23. Older people.
24. At risk and special care patients.
25. Minority ethnic groups.
26. Other health professionals.
27. Planning education case studies.
Section 6: Oral health and society.
28. Sociology.
29. Epidemiology.
30. Evidence-based prevention.
31. UK dental services.
32. Oral health promotion.
Index.
"The short sections and clear layout would also make this a good reference for any dentali professional to use in conjuction with other documents, such as Delivering Better Oral Health: An Evidence-Based Toolkit for Prevention." (Dental Update, 1 July 2011)
* Easy to read
* Full colour throughout
* Handy format for easy reference and portability.
* Includes self-assessment exercises at the end of each chapter
* Includes summaries of "Aims and Objectives"