Basic Marketing Management, 2nd Edition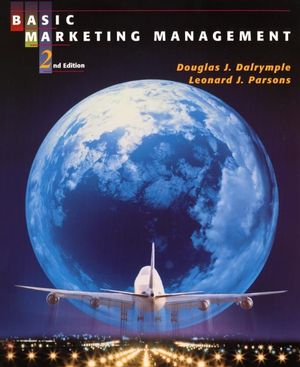 Basic Marketing Management, 2nd Edition
ISBN: 978-0-471-35392-8
Feb 2000
336 pages
Description
To accommodate instructors who either don't use cases or prefer to select their own, we offer a marketing management book that focuses exclusively on text material. In addition, to keep the price of the book affordable, we have chosen to publish this book in a paperback form. Like the Marketing Management: Text and Cases, Seventh Edition text, this book is intended for the Sr/MBA course in Marketing Management or Marketing Strategy. 15 chapters provide good coverage of the subject in a compact format.
The Role of Marketing in Organizations and Society.

Marketing Strategy.

Customer Analysis.

Market Segmentation and Product Differentiation.

Competitive Analysis and Product Positioning.

Product Development and Testing.

Brand Management.

Services Marketing.

Pricing.

Selecting Distribution Channels.

Personal Selling and Sales Force Management.

Direct Marketing.

Designing Advertising Programs.

Sales Promotion and Public Relations.

International Marketing.

Marketing Planning.

Index.
Strengthened coverage on the topic of brand equity throughout the text. Chapter 2 on Marketing Strategy, Chapter 7 on Product Development, and Chapter 8 on Brand Management are updated in this area of brand equity; new research and issues will be highlighted.
Extensive coverage of IT Issues throughout the text. For example, the Direct Marketing chapter (Chapter 12) contains new coverage of database marketing, e-commerce, relationship marketing, business to business marketing, etc.
Curriculum integration theme. The sixth edition contained this theme of integration but the seventh edition has more extensive coverage including an icon to show the integration/application of Marketing with Finance, for instance, in examples.
Marketing In Action and Marketing Strategies boxes. At least 75% of these boxes are new and contain more examples that build on themes of IT, brand equity, globalization, and relationship marketing. Featured companies' www URLs will be noted within each box.
Globalization. solid coverage in the sixth edition and continued in the seventh edition with even greater integration in text content and in the cases.
Basic Marketing Management, Second Edition offers instructors flexibility to emphasize text or their own case materials and to try innovative methods of instruction.
For those instructors who utilize their own selection of cases, there is an appendix for students who need guidance in cases methods and preparing case analyses.
The Case Method, along with the sample Cook Company case and sample write up will enable students unfamiliar with, or lacking experience in reading, analyzing and presenting a case solution, the means to learn or review this important skill.