Basic Math and Pre-Algebra: Learn and Practice 2 Book Bundle with 1 Year Online Access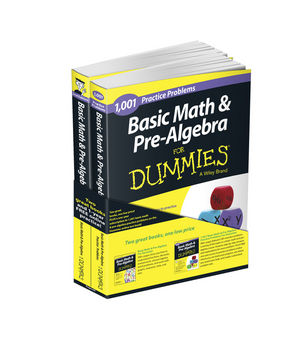 Basic Math and Pre-Algebra: Learn and Practice 2 Book Bundle with 1 Year Online Access
ISBN: 978-1-118-98063-7
Jul 2014
792 pages
Product not available for purchase
Description
Learn and practice your Basic Math & Pre-Algebra skills with two friendly For Dummies guides for one low price!

This value-priced, two-book bundle brings two popular For Dummies math guides together to offer readers essential Basic Math & Pre-Algebra instruction combined with real-world practice problems to put their knowledge to the test and help reinforce key Algebra I concepts. Each bundle includes full-size editions of Basic Math & Pre-Algebra For Dummies, 2nd Edition and Basic Math & Pre-Algebra: 1001 Practice Problems For Dummies plus access to an online companion test bank for one year.

With Basic Math & Pre-Algebra For Dummies, you'll learn how to:
Understand the ins and outs of addition, subtraction, multiplication, and division
Work with fractions, decimals, percentages, and more
Grasp prime numbers, factors, multiples, graphs, and measurements
Avoid common mistakes and conquer word problems with ease
With Basic Math & Pre-Algebra: 1,001 Practice Problems For Dummies, you'll receive:
Free, one-year subscription to all 1,001 Basic Math & Pre-Algebra practice problems, categorized by easy, medium, or hard levels
On-the-go access from your laptop, smartphone, or tablet
Multiple choice questions covering math course topics
Personalized reports that track your progress and help identify areas needing further study
Customized practice sets for self-directed study
Whether you're brushing up on basic math or preparing to take on pre-algebra, this one-of-a-kind bundle will help you remember - and reinforce - what you've learned in the classroom.