Basics of Troubleshooting in Plastics Processing: An Introductory Practical Guide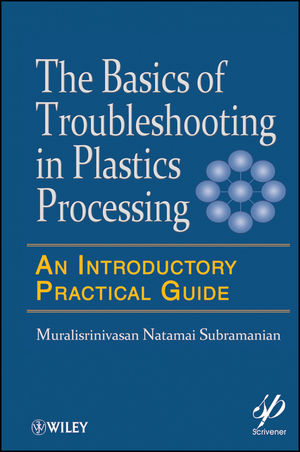 Basics of Troubleshooting in Plastics Processing: An Introductory Practical Guide
ISBN: 978-0-470-62606-1 February 2011 240 Pages
Description
The Basics of Troubleshooting in Plastics Processing is a condensed practical guide that gives the reader a broad introduction to properties of thermoplastics plastics, additives, the major processes (extrusion, injection molding, rotational molding, blow molding, and thermoforming), as well as troubleshooting.   The main goal is to provide the plastics processor with an improved understanding of the basics by explaining the science behind the technology. Machine details are minimized as the emphasis is on processing problems and the defects in an effort to focus on basic root causes to problems and how to solve them.

The book's framework is troubleshooting in plastics processing because of the importance it has to the eventual production of high quality end products. Each chapter contains both practical and detailed technical information.

This basic guide provides state-of-the-art information on:
Processing problems and defects during manufacturing
Plastics materials, their properties and characterization
The plastics processing techniques
Plastics additives 
Troubleshooting of the 5 main plastics processes
References for further reading
Buy Both and Save 25%!
Original Price:$320.00
Purchased together:$240.00
save $80.00
Cannot be combined with any other offers.
Preface.
1. Introduction.
1.1 Market Trends.
1.2 Importance of Plastics.
1.3 Plastics Processing.
1.4 Fundamental.
References.
2. Plastics Materials.
2.1 Properties and Processing.
2.2 Polyethylene.
2.3 Polypropylene (PP).
2.4 Polystyrene.
2.5 Polyvinylchloride (PVC).
2.6 Engineering Plastics.
2.7 Advantages.
2.8 Fundamental.
References.
3. Plastics Additives.
3.1 Antioxidants.
3.2 Anti-block Agents.
3.3 Antistatic Agent.
3.4 Clarifying Agents.
3.5 Slip Additives.
3.6 Processing Aids.
3.7 Antifogging Agents.
3.8 Antiblocking Agents.
3.9 Heat Stabilizers.
3.10 Lubricants.
3.11 Plasticizers.
3.12 Coupling Agents or Surface Modifiers.
3.13 Release Agents.
3.14 Flame Retardants.
3.15 Pigments.
3.16 Light Stabilizers.
3.17 Impact Modifiers.
3.18 Blowing Agents.
3.19 Nucleating Agents.
3.20 Biocides.
3.21 Fillers.
3.22 Fundamentals.
References.
4. Plastics Processing.
4.1 Focus on Plastics Processing.
4.2 Injection Molding.
4.3 Extrusion.
4.4 Blow Molding.
4.5 Thermoforming.
4.6 Rotational Molding.
4.7 Fundamental.
References.
5. Troubleshooting – Problems and Solutions.
5.1 Troubleshooting – Requirements.
5.2 Injection Molding – Troubleshooting.
5.3 Troubleshooting – Extrusion.
5.4 Troubleshooting – Blow molding.
5.5 Troubleshooting – Thermoforming.
5.6 Troubleshooting – Rotational molding.
References.
6. Future Trends.
6.1 Productivity.
6.2 Automotive Applications.
6.3 Medical Applications.
6.4 Environmental Issues.
6.5 Fundamentals.
References.
Index.