Basset Hound: Your Happy Healthy Pet, 2nd Edition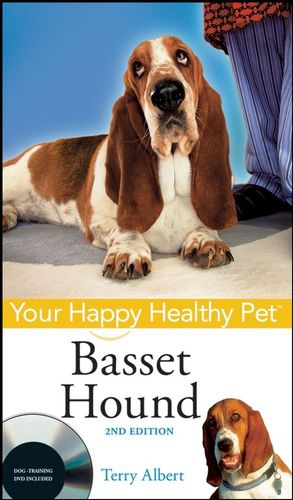 Basset Hound: Your Happy Healthy Pet, 2nd Edition
ISBN: 978-0-470-39056-6
Dec 2008
144 pages
Product not available for purchase
Description
Originally bred to trail game with its sensitive nose, this laid-back, even-tempered breed was number 31 on the American Kennel Association's 2007 ranking of America's most popular dogs.

Note: CD-ROM/DVD and other supplementary materials are not included as part of eBook file.
Part I: The World of the Basset Hound.
Chapter 1: What Is a Basset Hound?
A Scenthound.
Built for Hunting.
Chapter 2: Basset Hound History.
French Origins.
British Influence.
The Basset Hound in the United States.
Basset Hounds in Popular Culture.
Chapter 3: Why Choose a Basset Hound?
What Bassets Do.
Natural Instincts.
Special Needs.
Temperament and Training.
Sports for Basset Hounds.
Chapter 4: Choosing Your Basset Hound.
Decisions to Make.
Consider a Rescued or Shelter Dog.
Where to Get a Puppy.
Questions You'll Be Asked.
Part II: Caring for Your Basset Hound.
Chapter 5: Bringing Your Basset Hound Home.
Using a Crate.
Puppy Essentials.
Puppy-Proofing Your Home.
Toys.
Identification.
Choosing a Name.
Bringing Your Puppy Home.
The First Few Weeks.
Children and Your Puppy.
Beginning Training and Socialization.
Chapter 6: Feeding Your Basset Hound.
Feeding Puppies.
Feeding Adult Dogs.
Feeding Senior Dogs.
What to Feed Your Basset Hound.
Reading Dog Food Labels.
The Overweight Basset Hound.
Picky Eaters.
Poisonous Foods.
Chapter 7: Grooming Your Basset Hound.
Grooming Supplies.
Bath Time.
Nail Trimming.
Ear Cleaning.
Teeth Cleaning.
Skin Check.
Making Your Environment Flea Free.
Chapter 8: Keeping Your Basset Hound Healthy.
Choosing a Veterinarian.
Health Concerns for Basset Hounds.
Common Canine Health Problems.
Parasites.
How to Make a Canine First-Aid Kit.
First Aid.
When to Call the Veterinarian.
The Senior Citizen.
Part III: Enjoying Your Basset Hound.
Chapter 9: Training Your Basset Hound.
Understanding Builds the Bond.
Practical Commands for Family Pets.
Training for Attention.
Teaching Cooperation.
Chapter 10: Housetraining Your Basset Hound.
Your Housetraining Shopping List.
The First Day.
Confine Your Pup.
Watch Your Pup.
Accidents Happen.
Scheduling Basics.
Appendix: Learning More About Your Basset Hound.
Books.
Magazines.
Clubs, Registries, and Associations.
Internet Resources.
Index.
Getting Active with Your Basset Hound
This bonus chapter is in PDF format. You will need Adobe Reader to view it.
Download
Your Basset Hound and Your Family
This bonus chapter is in PDF format. You will need Adobe Reader to view it.
Download
Additional Housetraining Schedules
This bonus chapter is in PDF format. You will need Adobe Reader to view it.
Download