Bataille: A Critical Reader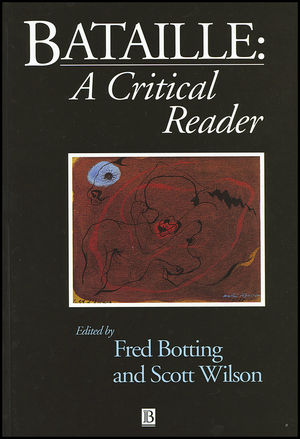 Bataille: A Critical Reader
ISBN: 978-0-631-19957-1
Jan 1991, Wiley-Blackwell
236 pages
Description
An elegant introduction to Bataille's major concepts and concerns, Bataille: A Critical Reader underlines the powerful impact his work has had, in different ways, on an entire generation of thinkers.
Acknowledgements.
Introduction: Fred Botting and Scott Wilson.
1. Preface to Transgression: Michel Foucault.
2. Affirmation and the Passion of Negative Thought: Maurice Blanchot.
3. The Dualist Materialism of George Bataille: Denis Hollier.
4. The Roof: Essay in Systematic Reading: Philippe Sollers.
5. From Restricted to General Economy: A Hegelianism Without Reserve: Jacques Derrida.
6. Death in Bataille: Jean Baudrillard.
7. The Laughter of Being: Mikkel Borch-Jacobsen.
8. The French Path to Postmodernity: Bataille between Eroticism and General Economics: Jürgen Habermas.
9. When Bataille Attacked the Metaphysical Principle of Economy: Jean Baudrillard.
10. General Economics and Postmodern Capitalism: Jean-Joseph Goux.
Bibliography.
Index.
"Bataille: A Critical Reader is a careful selection of some of the best and most interesting critical work on this elusive and often obscure thinker." University of Sussex
* Offers an elegant introduction to Bataille.
* Contains major essays by eminent theorists.
* Reveals Batailles pivotal position for theorists including Baudrillard, Blanchot, Derrida, Foucault, and Habermas.