Battle for Europe: How the Duke of Marlborough Masterminded the Defeat of the French at Blenheim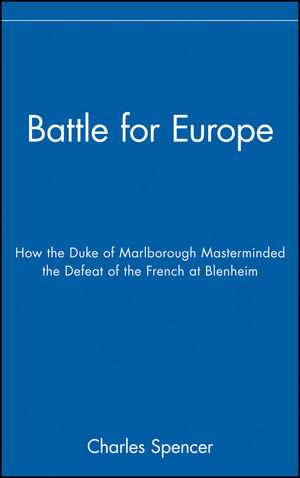 Battle for Europe: How the Duke of Marlborough Masterminded the Defeat of the French at Blenheim
ISBN: 978-1-118-04046-1
Sep 2011
384 pages
Description
A compelling history of the bloody battle that ended Louis XIV's dream of European domination and changed the course of history

""Had it not been for Blenheim, all Europe might at this day suffer under the effect of French conquests resembling those of Alexander in extent and those of the Romans in durability.""
—Sir Edward Creasy, The Fifteen Decisive Battles of the World

In 1704, the armies of the French king Louis XIV, undefeated for two generations, were poised to extend the French frontiers to the Rhine and install a French prince on the Spanish throne. But as French forces marched toward Vienna, allied armies under the command of John Churchill, Duke of Marlborough, and Prince Eugène of Savoy set out to oppose them. The two forces met at Blenheim, in Bavaria, and the French were utterly defeated, ending France's dream of European domination. Based on original sources, this page-turning narrative brings the battle to life, effortlessly moving from the deliberations of kings to the travails of the common foot soldier.

""Thoughtful, interesting, and well-written. . . . Spencer recovers an approach and authorial voice associated with Winston Churchill, whom indeed he quotes effectively and appropriately. . . . From the excellent scene-setting of the Prologue to the effective battle descriptions, which ably draw on the memoirs of the participants, Charles Spencer successfully combines narrative with analysis.""
—The Sunday Telegraph

""A remarkable debut . . . not to be missed.""
—Evening Standard

""Charles Spencer explores the decisive battle of Blenheim, the campaign that broke Louis XIV's domination of Europe and established the enduring reputation of the British redcoat . . . in this compelling, page-turning narrative . . . of a battle that changed the destiny of Europe.""
—Soldier
List of Maps.
Preface.
Prologue.
PART ONE: LOUIS'S EUROPE.
ONE: A Rod for His Own Back.
TWO: An Island No More.
THREE: John Churchill.
FOUR: France Feels the Strain.
FIVE: The Spanish Succession.
PART TWO: THE WAR.
SIX: Taking Sides.
SEVEN: The War in Flanders.
EIGHT: Friends Like These.
NINE: Closing In.
PART THREE: THE CAMPAIGN.
TEN: Cutting the Gordian Knot.
ELEVEN: Prince Eugène.
TWELVE: Combined Forces.
THIRTEEN: The Storming of the Schellenberg.
FOURTEEN: Looking to Louis.
FIFTEEN: Laying Waste to Bavaria.
SIXTEEN: Battle Looms.
PART FOUR: THE BATTLE.
SEVENTEEN: Battle Joined.
EIGHTEEN: Blenheim Village.
NINETEEN: General Engagement.
TWENTY: Cavalry Charge.
TWENTY-ONE: Victory.
TWENTY-TWO: 'Que dira le roi?'
TWENTY-THREE: Vindication.
TWENTY-FOUR: Lessons Learned.
PART FIVE: THE AFTERMATH.
Sources.
Appendices.
A. The Senior Officers of the Army of the Grand Alliance at Blenheim.
B. British and Irish Regiments who Fought at Blenheim.
C. The Regiments Brought into Bavaria by Marshal Tallard.
Bibliography.
Index.
""Wondrously enthralling.""  (The TImes (London))