Battling for Competitive Advantage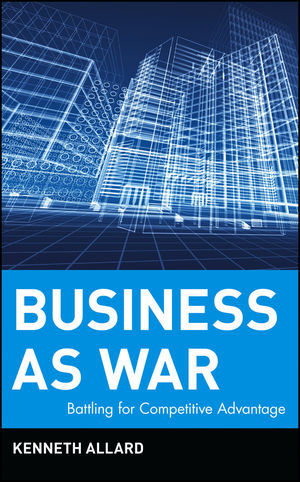 Battling for Competitive Advantage
ISBN: 978-0-471-46854-7
Jan 2004
240 pages
Description
Praise for Battling for Competitive Advantage

"[Battling for Competitive Advantage] systematically unravels and explains the complexities of modern business and warfare. This excellent book will prove helpful to business leaders as well as the academic community charged with explaining successful leadership of large organizations."
-General Barry R. McCaffrey, U.S.A. (Ret.), Professor of International Security Studies at West Point and NBC News Commentator

"Colonel Ken Allard doesn't just have supreme military intelligence, his operational brilliance extends to the business world as well. Battling for Competitive Advantage teaches you that business is war and that Ken is the perfect commander-in-chief to follow into your business battles."
-Ron Insana, Coanchor, CNBC's Business Center

"In war, they don't give out medals for second place. In business, as in war, you can't win without first surviving. [This book] offers the hard-won wisdom from one warrior's world to another. Read, laugh, squirm, survive, and win!"
-Scott A. Snook, Associate Professor, Organizational Behavior Harvard Business School

"In the post-9/11, post-Enron environment, Ken Allard's Ten Commandments of Military Leadership are directly applicable to today's business CEOs."
-Tom Petrie, Chairman and CEO, Petrie Parkman & Co.
1. Introduction.
PART I: BUSINESS AS WAR.
2. Worlds Apart?
3. War as an Audit.
4. Building Leaders of Character.
PART II: LEADERSHIP IN BUSINESS AND WAR.
5. Strategy: Deliver Us from Process.
6. Organizing for Victory: While Shooting as Few Bureaucrats as Possible.
PART III: THE TOOLS.
7. Business Intelligence: Another Damned Thing They Didn't Teach You In B School.
8. The Other Side of the Coin: Enterprise Security.
9. Testing Your METL: Or What to Do When the Mission Really Is Essential.
Chapter 10. Putting it All Together.
Epilogue: The After Action Review (AAR). 
Notes.
Index.
The author, a former army colonel currently featured as a military analyst on MSNBC and NBC News, is convinced that corporate America can learn vital lessons from the U.S. military. Business executives, according to Allard (Command, Control and the Common Defense), today function in a chaotic atmosphere dominated by globalization and rapidly changing information technology. He argues that recent corporate scandals such as the collapse of Enron as well as the high salaries of CEOs are symptomatic of the lack of leadership in industry, a loss that seriously impedes business success. Drawing on myriad examples from the military, Allard provides a series of war plans that he believes can change the corporate environment. Included is a recommendation to emulate the training followed at West Point to build idealistic managers, to devise overall military-like strategies rather than marketing plans and to be aware of and responsible for security programs to combat electronic terrorism. While Allard's proposals to improve business leadership have merit, many of the military analogies are repetitive and forced. Much of his advice is delivered in an off-putting, hectoring tone that sometimes borders on bragging, and his potshots at former president Clinton feel inappropriate for a business manual. (Jan.) (Publishers Weekly, January 12, 2004)
THE AUTHOR IS AN ADJUCT PROFESSOR IN THE NATIONAL SECURITY STUDIES PROGRAM AT GEORGETOWN UNIVERSITY.
COMPELLING STRATEGY FROM A RESPECTED, KEY MILITARY MANAGEMENT EXPERT. The Pentagon has undergone more reengineering in the last two decades than most corporations. There are key analogies between the way the military fights terrorists and the new challenges businesses face on a global scale.
IMUS LOVES ALLARD. In addition to regular and frequent NBC, MSNBC, and CNBC appearances, Allard is a regular guest on Don Imus and a host of other radio shows. He frequently addresses business groups as a keynote speaker on international affairs and business strategy.