Baudrillard and the Media: A Critical Introduction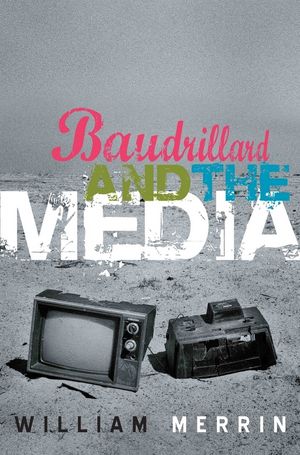 Baudrillard and the Media: A Critical Introduction
ISBN: 978-0-745-63073-1 January 2006 Polity 224 Pages
Download Product Flyer
Download Product Flyer
Download Product Flyer is to download PDF in new tab. This is a dummy description. Download Product Flyer is to download PDF in new tab. This is a dummy description. Download Product Flyer is to download PDF in new tab. This is a dummy description. Download Product Flyer is to download PDF in new tab. This is a dummy description.
Description
'Baudrillard and the Media' is the first in-depth critical study of Jean Baudrillard's media theory. Rejecting the common positioning of Baudrillard within the discipline as a postmodernist it argues instead for the necessity of a fuller reading of his ideas and critical project.
Merrin offers an overview and evaluation of his key arguments and themes, focusing especially upon the organising principle of his work: his theory of symbolic exchange and critique of the semiotic and of simulation. Upon this basis the book also resituates Baudrillard within media theory, developing an original, critical re-reading of his relationship with McLuhanism and arguing for the significance instead of hitherto neglected influences such as Boorstin.

Emphasizing his critical value and contemporary relevance, 'Baudrillard and the Media' also provides the most detailed exploration yet of Baudrillard's theory of the non-event, considering its applicability through case studies of his controversial analyses of the Gulf War, of 9/11 and the Afghan and Iraq Wars and of his own appearance in the film The Matrix. Considering also Baudrillard's discussion of cinema, his theory and personal practice of photography and his critique of new media, the book concludes with an evaluation of his place within media and communication studies and an argument for his importance for this field.

Students and scholars of the media, and media theory in particular, will welcome this clear and comprehensive study.
Table of contents
Acknowledgements
Introduction: 'There is No Theory of the Media': Baudrillard and Media Studies
1. Television is Killing the Art of Symbolic Exchange: Baudrillard's Theory of Communication
2. To Play With Phantoms: The Evil Demon of the Simulacrum
3. Are Friends Electric?: Baudrillard's Critique of McLuhan
4. The Delirious Spectacle of the Non-Event
5. Shreds of War Rotting in the Desert
6. 'Total Screen': 9/11 and The Gulf War: Reloaded
7. 'The Matrix Has You': Virtuality and Social Control
8. 'The Saving Power': The 'Reflex Miracle' of Photography
Conclusion: 'Speculation to the Death': Baudrillard's Theoretical Violence
Notes
References
Index
Reviews
'Finally we have a book-length study of Baudrillard's writing from the vantage point of media studies. Merrin is an excellent guide to what is arguably the central thread in the work of the theorist of simulations.' –
Mark Poster, University of California, Irvine
'William Merrin has written a significant and original book that will transform conventional understandings of Jean Baudrillard's alleged "postmodern" media theory. His radical Durkheimian interpretation, critique and conclusions will be seriously debated in media and communications studies and deserved so. Baudrillard and the Media is essential reading for anyone interested in Baudrillard or contemporary theories of media and simulation, symbolic exchange and semiotics.' –John Armitage, Northumbria University
Features


The first critical study of Jean Baudrillard's media theory and the place of his thinking in media studies.


Baudrillard is a highly trendy thinker but one whose work can be obscure and densely theoretical, and this book makes accessible for the first time his most controversial and talked about theories for undergraduate students.


Employs a vast range of contemporary examples, from 9/11 and the wars in Afghan and Iraq to The Matrix.


Explains the complex ideas and theories in Baudrillard's works in a clear and jargon-free manner.


Offers an overview and evaluation of the key arguments and themes in Baudrillard's works, clearly situating these within the wider field of media theory.