Be * Know * Do: Leadership the Army Way, Adapted from the Official Army Leadership Manual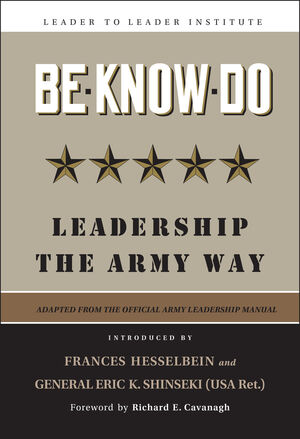 Be * Know * Do: Leadership the Army Way, Adapted from the Official Army Leadership Manual
ISBN: 978-0-470-76862-4
Mar 2010, Jossey-Bass
192 pages
Description
The United States Army is one of the most complex, best run organizations in the world, and central to the Army's success are strong leadership and exceptional leadership development. Army leaders must be able to act decisively and effectively in challenging situations. But the Army, despite its organizational structure, does not train leaders in a hierarchical manner. Dispersed leadership is the key to the success of the Army leadership model.

Now, for the first time, you can have access to the Army's successful leadership philosophy and the principles that are outlined in Be Know Do the official Army Leadership Manual. Be Know Do makes this critical information available to civilian leaders in all sectors--business, government, and nonprofit--and gives them the guidelines they need to create an organization where leadership thrives.
Foreword (
Richard E. Cavanagh
).
Introduction.
1. What a Leader Must Be, Know, and Do.
2. The Character of Leaders.
3. People Are at the Core.
4. Leading from the Front.
5. It Takes a Team.
6. Managing Complexity, Leading Change.
7. Building and Leading Learning Organizations.
Conclusion.
Notes.
Index.