Beans: Four Principles for Running a Business in Good Times or Bad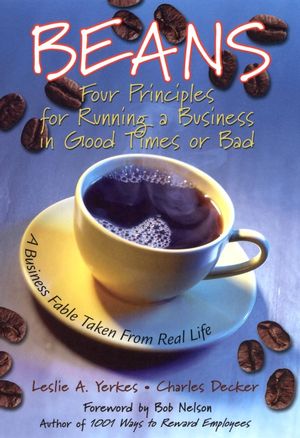 Beans: Four Principles for Running a Business in Good Times or Bad
ISBN: 978-0-787-96764-2
Jun 2003, Jossey-Bass
176 pages
Description
Beans is the story of The El Espresso, a legend in its own time in Seattle and a coffee company that has prospered by intentionally staying small, inspiring fanatical customer loyalty in the process. Told over the span of a single day, it follows The El's founder, Jack Hartman, through a business crisis that will challenge him and make him clear on why he does what he does. Unsure of whether he has lost the passion needed to sustain his business, Jack hires a consultant who flies to Seattle to "help" him but in reality bears witness to the secrets of good business, whether it's a company of 20 employees or 20,000. In the process, Jack learns about "the Four Ps" and how applying these universal principles can reenergize his employees, his customers, and even himself.

Though fictionalized, this is a true story in the best sense of the word. It arrives at a time when people are yearning to return to honest ways of doing business—before corporate dominance, inflated executive salaries, accounting trickery, and outright greed became so much a part of our everyday business headlines. It is the story of how a pushcart David up against the corporate Goliaths succeeded by focusing on what is core to good business and a good life: honoring customers, trusting employees, building passion around a product, and turning an honest profit.
Foreword (Bob Nelson).
Preface.
Authors' Note.
Introduction.
1. PASSION: You gotta have it or you gotta get it.
2. PEOPLE: You're known by the company you keep.
3. MAKE IT PERSONAL: Everybody wants to be a regular.
4. PRODUCT: People don't pay good money for bad coffee.
5. THE EYE OF INTENTION: If you don't know where you're going, you won't know when you get there.
6. THE FOUR P'S: Big lessons from a small cup of coffee.
Epilogue: SIX WEEKS LATER.
A Page From Carol Wisdom's Notes.
Discussion Questions: Applying the Four P's to Your Work Experiences.
Appendix: Caffeine Facts.
Acknowledgments.
About the Authors.
Contact Page.
"...this is a business fable of a true story...of the cut throat coffee business..." (
Business Plus
, September 2003)
"...this book severs to demonstrate all five aspects very nicely..." (Real Coffee, October 2003)
"...Like all good allegories, its lessons are to do with honesty, trust, dedication and the triumph of the little guy..." (Gulf Business, January 2004)