Beating Combat Stress: 101 Techniques for Recovery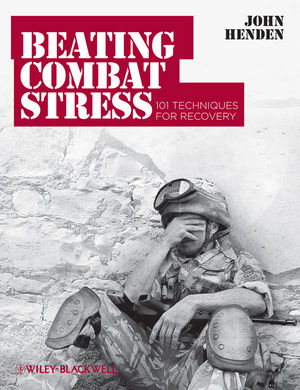 Beating Combat Stress: 101 Techniques for Recovery
ISBN: 978-0-470-97480-3 February 2011 178 Pages
Description
Beating Combat Stress
is a one-stop handbook of field-tested techniques and strategies to help service personnel, veterans and professionals to deal with the psychological effects of combat.
Features 101 field-tested techniques and strategies for managing combat-related stress
Designed to be accessible and useful both to serving personnel and veterans, and to the professionals and volunteers who are engaged in helping them
Takes a solution-focused approach to dealing with combat-related problems, promoting simplicity and proven techniques over complex theories and psychological jargon
User-friendly style and layout, with specially-commissioned illustrations throughout
Table of contents
About the Author.
Foreword.
Preface – The Book's Purpose.
Acknowledgements.
Introduction.
How to Use This Handbook.
Section 1: Dealing with "Triggers".
Section 2: How to Deal with Flashbacks.
Section 3: How to Deal with Unwelcome Thoughts.
Section 4: Dealing with "The Lows".
Section 5: Dealing with Sleep Disturbance.
Section 6: Living Life to the Full (or as Full as Possible).
Appendix A: The Evidence Base for Solution-focused Therapy.
Appendix B: Helpful Questions and Statements from the Worker.
Appendix C: What Service Users Have Found to be Helpful in This Work.
Appendix D: How to Avoid Re-traumatisation and Re-victimisation.
Appendix E: Blocks to Disclosing.
Appendix F: The Three Stages: Victim – Survivor – Thriver (Living Life to the Full, or as Full as Possible).
Appendix G: Benefi ts of Doing This Important Work.
Appendix H: Reassuring Things for Servicemen to Know.
Appendix I: Two-day Workshops.
Bibliography.
Index.
Reviews
"The overall goal is to help those dealing with combat stress issues regain their health and well-being ... The chapters are easy to read, clearly outlining and fully discussing the techniques, and the appendixes are quite substantial." (Doody's, 27 January 2012)
"John Henden's previous book Preventing Suicide, on working briefly with suicidal clients, was a much needed addition to the field, and I believe that his latest Beating Combat Stress will be even more highly valued . . . I hope that it is widely read and the ideas are carried forward into practitioner training as well as practice." (Barry Winbolt Blog, 20 May 2011)
"Designed to be accessible and usful both to serving personnel and veterans and to the professionals and volunteers who are engaged in helping them, Beating combat stress is crammed with field-tested techniques and strategies to help deal with the psychological effects of combat . . . well designed and illustrated throughout by specially commissioned line drawings, the book opens with advice on how it shouuld be used." (RoSPA Occupational Safety & Health Journal, 1 June 2011)
"I have witnessed first-hand the major impact this condition can have – not just on those who suffer from it, but  also on their friends, family and colleagues. The great thing about this user-friendly book is its strong emphasis on the 'how-to' when dealing with any situation. It covers the subject comprehensively, with plenty of case studies that readers will identify with. I am sure I would have benefitted greatly from reading it at that time, and I hope very much it will help others." —Andy McNabDCM MM, Bestselling Author of 'Bravo Two Zero'
"John Henden provides a much-needed perspective for addressing the problems of combat veterans. Those who have not worked with veterans will find this invaluable, and those who are experienced in working with soldiers will find new ideas in his practical suggestions."
—Robert K. GiffordPh.D., Colonel, U.S. Army, Retired
"At last! A nuts-and-bolts manual for those coping with normal reactions to abnormal events. John Henden delivers exactly what he says: 101 techniques of hope and help. This book is not a panacea – but it is the best of 'tailor-made' and 'off the peg' in one place, with something for everybody."
—Bruce GordenMA AAMFT, Vietnam Veteran
"Those whose injuries we see are just a small proportion of those who suffer in the course of duty. John Henden has consulted widely, thought carefully, and offers compelling advice in an area of life that has become much more open to receive it. In this regard he is a man for our times, and this book is a most welcome product. If used as intended, hope will be restored and many lives transformed."
—General Sir Richard Dannatt GCB CBE MC DL, Former Chief of the General Staff, British Army