Beating the 24/7 : How Business Leaders Achieve a Successful Work/Life Balance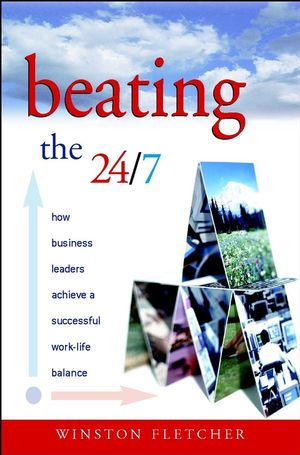 Beating the 24/7 : How Business Leaders Achieve a Successful Work/Life Balance
ISBN: 978-0-470-85558-4
Mar 2003
256 pages
Description
As more than 90% of spending on the Internet comes from brick and mortar companies it is these operations that will form the client base for e-learning. This book shows those companies how to get e-learning implementation right first time. Don Morisson explores and explains the whole implementation continuum - strategy, vendor selection, technology, implementation, culture change, content development and delivery. Most importantly he stresses that the success or failure of an e-learning initiative is directly related to the underlying strategic thinking. Written for a more mature, second generation e-learning market the book provides a practitioner's handbook to both guide the novice and inform the veteran.
* Focuses on the reader's needs
* Focuses on the strategic issues of e-learning
* Informed by key business drivers
* Supported and endorsed by PWC
Readership: Senior managers including CEOs, CIOs, CLOs, HR Directors, middle management responsible for implementing and/or delivering e-learning, consultants
Acknowledgements.

WORK/LIFE BALANCE: PIVOTAL PRINCIPLES.

Phascogales and parrots.

The triple-whammy.

The managers' millstone.

The work/life ratio.

To find the right answers, ask the right people.

What the interviews reveal.

THE WORK/LIFE INTERVIEWS.

1 Sir Richard Sykes, FRS.

2 Sir Dominic Cadbury.

3 Michael Grade, CBE.

4 Baroness Hogg.

5 Lord Marshal.

6 Sir George Bull.

7 Sir Christopher Bland.

8 Rosalyn Wilton.

9 Sir Peter Davis.

10 Lord Hollick.

11 Helen Alexander.

12 John Clare.

13 Sir Michael Perry, GBE.

14 Nicola Horlick.

15 Sir Richard Branson.

16 Lord Stevenson, CBE.

SUMMARY: BEATING THE 24/7.

Index.
"...an insightful, thought-provoking and, above all , an optimistic book..." (Management Today, 2 September 2002) 
"Britain's most well-known business people tell us how they work hard, play hard - and beat the clock" (Independent on Sunday 29 September 2002)
"Fletcher has turned his attention to........the issue that is bothering us all at present" (Campaign 18 October 2002)
"…Read the lively and entertaining Beating the 24/7…2  (Talking Business, November 2002)
"…an absorbing insight into the ways leading business figures achieve fulfilment in their work and home lives…a helpful handbook for every ambitious entrepreneur…should be made compulsory reading for anybody appointed to a position of responsibility…" (The Times Higher Educational Supplement, 15 November 2002)
"…Drawing upon interviews with very successful business leaders…missed family events and missed children…sounds like you, read this book…" (Professional Manager, January 2003)
"… Winston Fletchers's recent book on work-life balance, cont ains interviews with some of the countries leading workaholics…" (The Independent, 18 January 2003)
Book of the week - "…useful reading for agencies that want to implement the Institute of Practitioners in Advertising's best-practice guidelines on work-life balance…" (Marketing, 20 February 2003)
"…an admirable book, a serious and helpful contribution to an important personal and business issue…" (The Reformer, Winter 2003)
'...wise words from the wealthy…' (Weekly Telegraph, 18-24 June 2003)
"…This book contains some of the most interesting interviews I've read about work-life balance … excellent concept, excellent book…." (Mothers@work, March 2004)