Beating the Odds: Eddie Brown's Investing and Life Strategies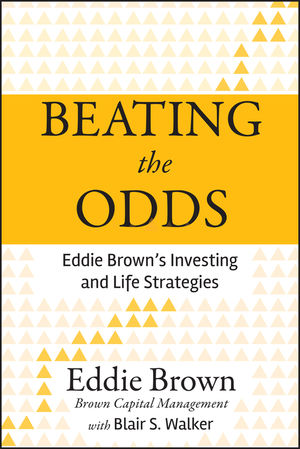 Beating the Odds: Eddie Brown's Investing and Life Strategies
ISBN: 978-1-118-06132-9
Mar 2011
208 pages
Description
Beating the Odds is the improbable, inspiring autobiography of financial guru Eddie C. Brown, one of the nation's top stock pickers and money managers. It details how Brown skillfully kept Brown Capital Management afloat through the dot-com bust, 9/11 and the Great Recession. Born to a 13-year-old unwed mother in the rural South, this African-American investment whiz created a Baltimore-based financial firm that amassed more than $6 Billion under management.

Brown delves into the profound heartbreak and disorientation upon the death of his beloved grandmother – who was his surrogate mother -- and recounts how Brown's moonshine-running Uncle Jake subsequently became the dominant adult figure in Brown's life. His unflinchingly honest, easy-to-read memoir details how intellectual curiosity, abiding self-belief, hard work and divine providence helped Brown earn an electrical engineering degree, become an Army officer, and later a civilian IBM engineer. Readers will learn of the strife that ensued when Brown quit IBM to earn an MBA, leading to investment jobs that prepared him to start his own money management company in 1983.
Prologue.
Chapter 1 Who Says Talk Is Cheap?
Chapter 2 The Big Three to the Rescue.
Chapter 3 The Prince of Apopka.
Chapter 4 Death and a Kidnapping.
Chapter 5 Magnifi cent, Mysterious Lady B.
Chapter 6 Engineering a New Existence.
Chapter 7 Europe on Five Dollars a Day.
Chapter 8 ""Ed, We're Already Doing Okay!""
Chapter 9 A Famished Lion in a Butcher Shop.
Chapter 10 The Height of Duplicity and Betrayal?
Chapter 11 A Window on the Top 1 Percent.
Chapter 12 Pulling the Trigger on Investments.
Chapter 13 Swimming with Sharks.
Chapter 14 Aren't You That Financial Guy From TV?
Chapter 15 Walking a Racial Tightrope.
Chapter 16 ""Go For It, Dad!""
Chapter 17 Everyone's Medical Nightmare.
Chapter 18 My Biggest Business Mistake.
Chapter 19 A Horror Movie without Sound.
Chapter 20 The Art and Science of Stock Picking.
Chapter 21 ""God, I Owe You One!""
Chapter 22 Impressive Progress, Baffl ing Lethargy.
Chapter 23 To Heir Is Human.
Chapter 24 Anyone Care for a Can of New Coke?
Epilogue.
Index.