Because Teaching Matters: An Introduction to the Profession, 2nd Edition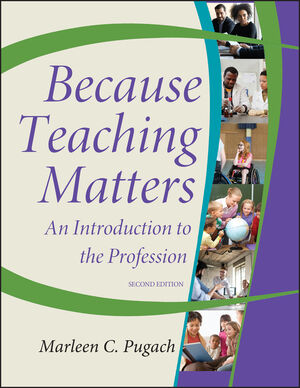 Because Teaching Matters: An Introduction to the Profession, 2nd Edition
ISBN: 978-0-470-47254-5
Feb 2009
528 pages
Description
Real challenges. Real choices. And very real consequences. That's what today's classrooms are about.

That's why Marleen Pugach's Because Teaching Matter: An Introduction to the Profession 2e is all about depicting today's classrooms as they truly are, while at the same time highlighting the enormous impact teachers have on students' lives.

Organized around five professional commitments – from learning from multiple sources of knowledge, using the curriculum responsibly, and embracing diversity, to meeting the needs of individual students and contributing actively to the profession – Because Teaching Matter: An Introduction to the Profession 2e tells the true story of today's complex classrooms. But there's more. It also drives home that though the decision to teach is a serious one, it is one that can be extremely rewarding.

Current research; practical discussions; and realistic cases capture the breadth and depth of the modern teaching experience, while a warm, engaging writing style make the text a pleasure to read.

Ideal for Foundations of Education and Introduction to Teaching courses designed to provide preservice teachers with an overview of the profession.  
1. Teaching: A Career That Makes a Difference.
Commitment #1: Learning from Multiple Sources of Knowledge throughout Your Career.
2. Putting What You Already Know About Teaching into Perspective.
3. Learning to Teach: What Does it Mean?
4. Learning from the History and Philosophy of Education.
Commitment #2: Using the Curriculum Responsibly.
5. Deciding What to Teach.
6. More Than What is Taught: School as a Social Institution.
Commitment #3: Crossing Your Own Familiar Borders to Embrace Diversity.
7. Teaching Students Whose Race, Class Culture or Language Differs From your Own.
8. Teaching Students with Disabilities.
Commitment #4: Meeting the Needs of Individual Students in the Context of the Classroom and the School.
9. Organizing Good Classrooms and Good Schools.
10. How Governing and Financing Schools Influence Teachers' Work.
Commitment #5: Contributing Actively to The Profession.
11. Ethical and Legal Issues in the Work of Teaching.
12. Becoming a Teacher: New Visions and Next Steps.