Beckham, 2nd Edition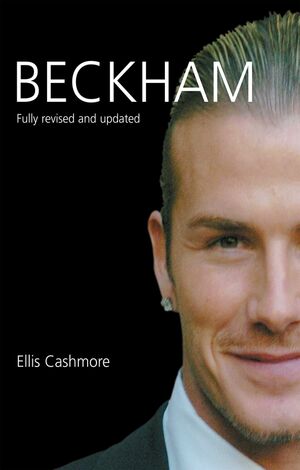 Beckham, 2nd Edition
ISBN: 978-0-745-63366-4 July 2004 Polity 224 Pages
Description
The Beckham enigma continues. Since the publication of Cashmore's challenging social biography in 2003, the working-class kid from the East London has left Manchester and conquered the world. Undisputedly one of the world's most famous men, Beckham has transcended sport to become an all-purpose cultural icon for the twenty-first century.
What are the sources of Beckham's godlike status? Why does someone who looks good, but speaks in platitudes and does little but play football, command the adulation of the planet? By dissecting his life and setting it in context of the age of celebrity, Cashmore argues that Beckham has been turned into a product, a commodity that can be bought and sold like any other piece of merchandise. There is not just a person named Beckham: there are countless Beckhams that exist independently of time and space, constructions of peoples' imaginations.

The second edition of Beckham updates the original's arguments, covering the events that have shaped the Beckham phenomenon: the Flying Boot that symbolized the growing disquiet at Manchester United, the replacement of his first agents SFX with Simon Fuller (the creator of Pop Idol), the failed attempt to capture a US market, the growing presence of adidas, the sportswear giants, and the transfer saga that took Beckham to Madrid – and his influence beyond.

Among the other features of the second edition are chapters on: Manchester United, the club that provided Beckham with his first showcase; Rupert Murdoch's takeover of British football; Beckham's ambiguous sexual image and his gay following; the importance of Madonna in kick-starting the age of celebrity in which Beckham prospered; Beckham's curious relationships with the legacy of Warhol.

Completely revised and updated, the new text emphasizes the often overlooked part played by Victoria in the making of the icon and the guile with which she helped plan an enterprise that had no precedents.
Table of contents
Introduction.
1. OF FROGS AND PRINCES.
2. DISASTER OR DELIVERANCE?.
3. INTO THE WHIRLPOOL.
4. ARTISAN AND ARTIST.
5. THE WORLD IS JUST ABOUT ENOUGH.
6. VICTORIA'S MACHINE.
7. MANCHILD IN PURGATORY.
8. SEX, MASCULINITY AND THE TEMPTATION OF GAY MEN.
9. CUSTODIANS OF THE IMAGE.
10. MADONNA'S PACT.
11. AN AD, A PRODUCT AND A BRAND.
12. YOUR FIFTEEN MINUTES ARE ALMOST UP.
BIBLIOGRAPHY
What's New


A fully updated edition of the first serious analysis of Beckham as a global sports celebrity.


The book includes an expanded discussion of the role of Victoria Beckham in David Beckhams transformation from footballer to global icon.


The book is written by one of the world's leading academic authorities on the culture of sport.