Becoming Sexual: A Critical Appraisal of the Sexualization of Girls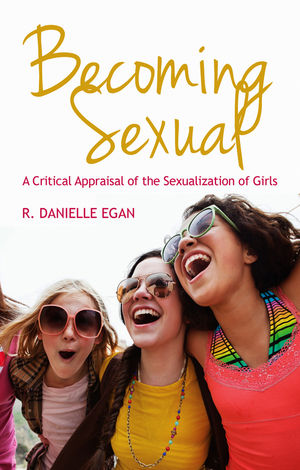 Becoming Sexual: A Critical Appraisal of the Sexualization of Girls
ISBN: 978-0-745-66958-8 May 2013 Polity 200 Pages
Description
The sexualization of girls has captured the attention of the media, advocacy groups and politicians in recent years. This prolific discourse sets alarm bells ringing: sexualization is said to lead to depression, promiscuity and compassion deficit disorder, and rob young girls of their childhood. However, measuring such claims against a wide range of data sources reveals a far more complicated picture.
Becoming Sexual begins with a simple question: why does this discourse feel so natural? Analyzing potent cultural and historical assumptions, and subjecting them to measured investigation, R. Danielle Egan illuminates the implications of dominant thinking on sexualization. The sexualized girl functions as a metaphor for cultural decay and as a common enemy through which adult rage, discontent and anxiety regarding class, gender, sexuality, race and the future can be expressed. Egan argues that, ultimately, the popular literature on sexualization is more reflective of adult disquiet than it is about the lives and practices of girls.
Becoming Sexual will be a welcome intervention into these fraught polemics for anyone interested in engaging with a high-profile contemporary debate, and will be particularly useful for students of sociology, cultural studies, childhood studies, gender studies and media studies.
Table of contents
Acknowledgments vi
Introduction: Sexualization as a Social Problem 1
1 What is Sexualization? 19
2 (Hetero)Sexualization, Pathological Femininity, and Hope for the Future 49
3 Sexualized Tastes, Middle-Class Fantasies, and Fears of Class Contagion 78
4 Unmanageable Bodies, Adult Disgust, and the Demand for Innocence 107
Conclusion: Refl exive Reticence, Affective Response, and the Social Construction of Sexual Problems 129
Notes 139
References 155
Index 182
Reviews
"A very welcome contribution to the tradition that challenges our too-easy acceptance of the translation of social fear into social fact."
Times Higher Education

"A unique and invaluable contribution to the field."
Clare L. Bennett, University of Worcester

"In this persuasive and eye-opening volume, R. Danielle Egan dissects the dominant accounts of the sexualization of girls to reveal deep-seated class and race anxieties that say more about adults' condition than those of young girls. A must-read for anyone interested in youth today."
Juliet Schor, Professor of Sociology and author of Born to Buy: The Commercialized Child and the New Consumer Culture
"Why has the figure of the 'sexualized' girl become an object of intense concern, despite a striking lack of evidence to support the claims that are made about contemporary girlhood? Becoming Sexual goes to the heart of this curious development to explore why we are so compelled by 'sexualization' and what our obsession reveals about our culture. This is a politically important book that reveals what is at stake in the sexualization debate for feminism and for girls."
Feona Attwood, Sheffield Hallam University
"Becoming Sexual is a refreshing and critical engagement with the contemporary and historical logics at work in recent figurations of the 'sexualized' girl-child and a compulsory read for anyone grappling with the wider cultural politics of girls, childhood and sexuality. With the ever-increasing onslaught of popular and pseudo-scientific texts bemoaning the 'sexualization of girls', Becoming Sexual is a MUST READ!"
Emma Renold, Cardiff University
What's New
A welcome intervention on the fraught polemics surrounding contemporary debates about the sexualization of girls
Analyses potent cultural and historical assumptions and attitudes, subjecting them to measured investigation and testing against statistical evidence
Argues that passionate feeling about this issue reveals more about adult anxiety regarding class, gender, sexuality, race and the future than the lives of girls
Will be of particular interest to students and scholars of sociology, cultural studies, childhood studies, gender studies and media studies