Becoming Your Own China Stock Guru: The Ultimate Investor's Guide to Profiting from China's Economic Boom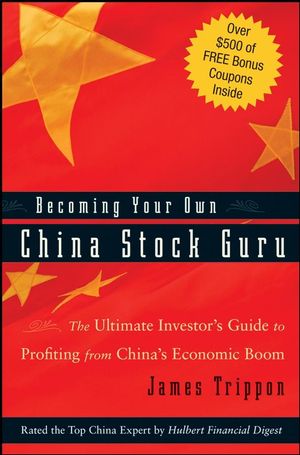 Becoming Your Own China Stock Guru: The Ultimate Investor's Guide to Profiting from China's Economic Boom
ISBN: 978-0-470-28528-2
Mar 2008
208 pages
Description
In Becoming Your Own China Stock Guru, James Trippon, who runs the largest independent equity investment research firm in Mainland China, reveals how to profit from the investment opportunities available in the rise of the world's newest economic superpower. Trippon has invested in the Chinese market for more than twenty years and made his clients millions of dollars in the process. Now, with this new book, he offers you detailed guidance on how to profit from this significant financial opportunity.
Contents.
Forward
Introduction.
Acknowledgements.
I. Trends – Why The Future Belongs to China.
Chapter 1: Sunrise in the East: China Becomes the New World Superpower.
Chapter 2: Sunset in the West: The End of American Economic Supremacy.
Chapter 3: The End of the Bicycle Kingdom: Common Misconceptions about Today's China.
Chapter 4: The Coming Financial Flood.
Chapter 5: Becoming a China Stock Guru.
II. China's Economic Landscape.
Chapter 6: China's Booming Base: Manufacturing.
Chapter 7: China's Auto Industry: In Full Gear.
Chapter 8: China's Energy Industry: Red Hot
Chapter 9: China's Bonanza: Banking and Insurance.
Chapter 10: China's Communications Revolution: Almost Free Speech.
III. Understanding China's Financial Centers
Chapter 11: The Epicenter of a Capitalist Revolution.
Chapter 12: Shenzhen: China's Test City.
Chapter 13: Shanghai: China's Own Manhattan.
Chapter 14: Taiwan: The Breakaway Prodigy
Chapter 15: Hong Kong: China's Modern Frontier.
IV. Building a China Stock Guru Portfolio.
Chapter 16: Buying China Without Leaving Home.
Chapter 17: Understanding ADRs, ETFs and Mutual Funds.
Chapter 18: Identifying Value in Chinese Stocks.
Chapter 19: Assembling Your Portfolio and Performing Risk Management.
V. Conclusion: A Peek at Your Guru Future.
Index.
""…any reader unwilling to at least hear Trippon make his case will be denying themselves the view of a veteran, outspoken China-watcher willing to take an aggressive stance on the future of China and of his wealthy clients."" (SFO Magazine, October 2008)