Becoming a Chef, Revised Edition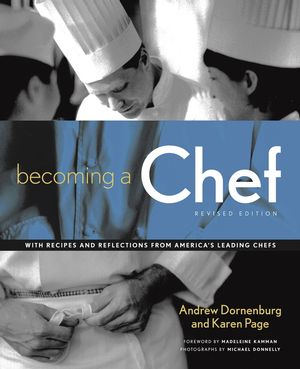 Becoming a Chef, Revised Edition
ISBN: 978-0-471-15209-5
Oct 2003
400 pages
Description
Becoming a Chef, Revised is the updated and expanded edition of the 1996 James Beard Foundation Award for Best Writing on Food, and reflects all the most recent advances made in the culinary industry. It features the career advice of the biggest, most respected names in the culinary industry, such as Thomas Keller, Claudia Fleming, Marcel Desaulniers, Caprial Pence, Marcus Samuelsson, Craig Shelton, Gale Gand, Rick Tramonto, and more. With their trademark style, the authors give insightful details on the demographics, employment, education, and personal details of today's star chefs.
List of Recipes.
Acknowledgments.
Foreword.
Preface.
1. Chefs: Yesterday and Toady.
2. Early Influences: Discovering a Passion for Food.
3. Cooking Schools: Learning in the Classroom.
4. Apprenticing: Learning in the Kitchen.
5. Getting In: Starting at the Bottom.
6. Developing as a Cook: The Next Level.
7. The Business of Cooking: Operating and Running a Restaurant.
8. Travel, Eating, and Reading: Learning Something New Everyday.
9. Preserving in the Face of Reality: Through Bad Times and Good.
10. What's Next?: The Chef as Alchemist.
Appendix A: Selected Professional Cooking Schools in the United States and Abroad.
Appendix B: Leading Culinary Organizations.
Appendix C: Selected Culinary Media and Resources.
Appendix D: Brief Biographies of Chefs Interviewed.
Index.
Chapter 5 ""Getting In"" gives insight to aspiring chefs about the grueling application and interview process and explores the benefits of culinary programs
Provides coverage of the recent transformation of the food world has experienced since the first edition in 1996
Gives interviews of new up-and-coming chefs including Mario Batali, Daniel Boulud, and Alice Waters
Provides insight into the benefits of culinary programs (B.A. and associate degrees) and the application and interview process.
Offers insightful details on the demographics, employment, education, and personal details of today's top chefs.
Explores the ""Business of Cooking,"" the power of the press to reinforce or cripple a restaurant, and the reasons behind the closings of such stellar restaurants as Arcadia, Square One, Stars, and others.