Becoming a Green Building Professional: A Guide to Careers in Sustainable Architecture, Design, Engineering, Development, and Operations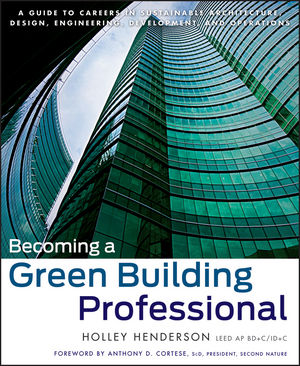 Becoming a Green Building Professional: A Guide to Careers in Sustainable Architecture, Design, Engineering, Development, and Operations
ISBN: 978-1-118-30030-5 March 2013 416 Pages
Description
A career guide for professionals in sustainable architecture, design, planning, development, and related consulting
For those considering a new career or a career change focused on green and sustainable building and design, Becoming a Green Building Professional offers practical information on educational requirements, career options, guidance and tips, and first-hand interviews with green building professionals. Perfect for underemployed architects and other building and design professionals who want to reinvent and renew their careers, as well as students considering such a career, this is a vital and informative guide to a growing field.
FOREWORD xi
PREFACE xix
ACKNOWLEDGMENTS xx
1 Why Build Green? 1
Our Place 1
THE NEED 2
A REASON TO CARE 5
LEADERSHIP 5
FURTHER INCENTIVES 6
WORLD OF GRAY 6
GREEN BUILDING 7
HISTORY OF GREEN BUILDING IN THE UNITED STATES 7
AT ALL LEVELS 8
WHAT IS A GREEN BUILDING PROFESSIONAL? 8
LEGACY 12
GREEN JOBS STATS 13
GREEN AS IN "SALARY" 14
HOW TO GET INTO THE FIELD 14
THE POWER OF TWO 19
ON THE HORIZON 30
2 What Do Green Building Professionals Do? 33
Common Principles 35
THE NATURAL STEP 35
METRICS 36
INTEGRATED THINKING 39
MULTIFACETED PERSPECTIVE 41
3 Green Building Education 59
Importance of Eco-Education 60
A WELL-CONCEIVED PROCESS 61
Higher Education 62
DO YOU NEED AN "ENVIRONMENTAL" 62
DEGREE?
BUILDING OR GREEN DEGREE? 64
Degree Option 1: Building Profession 66
UNDERGRADUATE/BACHELOR'S DEGREE 66
MASTER'S DEGREE 74
PhD, OR DOCTOR OF PHILOSOPHY 74
Degree Option 2: Specialized Environmental 72
MULTIDISCIPLINARY DEGREES 80
CHOOSING A COLLEGE 81
Post-College Educational 89
Options
Training Programs 89
TIME AND RESULTS 90
FORMAT AND FORUMS 90
HANDS-ON TRAINING PROGRAMS 91
Continuing Education 92
Perspectives from Educators 92
4 Experience of Green
Building Professionals 103
Early Adoption Becomes Mainstream 103
How to Get Green Experience 105
HANDS-ON EXPERIENCE 105
VOLUNTEER—GET INVOLVED! 106
MENTORING 108
INTERNSHIPS 111
ACCREDITATION 111
The Green Job Search 113
THE PLAN 113
RESOURCES 113
TOOLS 120
Determining a Best Fit 123
The Green Architect 125
The Green Contractor or Construction Manager 130
The Green Civil Engineer 134
The Green MEP Engineer 138
The Green Interior Designer 142
The Green Landscape Architect 147
The Green Urban Planner 154
The Green Real Estate Professional 159
The Green Facility Manager or Owner 165
Experience + Resources = Results 174
5 Sustainability and Green Building Consultants 177
A Sprouting New Sector 177
THE RACE TO STAY CURRENT 178
RANGE OF ROLES 180
SUSTAINABILITY CONSULTANTS 180
GREEN BUILDING CONSULTANTS 182
HOW GREEN BUILDING CONSULTANTS WORK 191
Perspectives from Green Building Consultants 194
Green Lanterns 199
6 Green Building Process and Tools 201
Process 201
GUIDE: INTEGRATED DESIGN 203
The Toolbox 208
SELECTING THE BEST TOOL FOR THE JOB 209
TRANSPARENCY 210
STANDARDS 211
THIRD PARTY 212
PERFORMANCE 215
GREEN BUILDING CERTIFICATIONS 218
Nature Nexus 238
7 Green Building Impact Areas, People, and Tools 241
Common Ecos 241
SPECIALISTS 242
TOOLS 242
Site/Location 244
HEAT ISLAND EFFECT 245
BROWNFIELD REMEDIATION 245
Water 248
Energy 254
NEW VS. VINTAGE 256
ENERGY FOR NEW CONSTRUCTION 257
ENERGY FOR EXISTING BUILDINGS 268
COMMISSIONING THE BRIDGE 272
NEXT-GENERATION ENERGY 274
Materials 285
MATERIALS IN DESIGN 286
MATERIAL CERTIFICATIONS 288
ENTRY POINT—REDUCE/REUSE/RECYCLE TOXICITY 291
NEXT-GENERATION MATERIALS 296
MATERIALS IN CONSTRUCTION 304
MATERIALS IN OPERATIONS 304
Indoor Air Quality 305
AIR QUALITY BY BUILDING PHASES 308
AIR QUALITY IN DESIGN 309
AIR QUALITY IN CONSTRUCTION 309
AIR QUALITY IN OPERATIONS 311
AIR QUALITY IN POST-OCCUPANCY 312
8 The Business of Green Buildings 317
Chief Sustainability Officers 318
ONE ROLE, MANY NAMES 320
Green Legal Advisors/Environmental Lawyers 332
Financials 339
9 The Future of Green Building 365
Forecast 365
GLOBAL 366
UNITED STATES 367
BEAUTY OF AGE 378
NEW LOOK 379
THE END IS THE BEGINNING 382
APPENDIX 383
INDEX 387
"For those considering a new career or a career change on green and sustainable design, Becoming a Green Building Professional offers practical information on educational requirements, career options, guidance and tips, and firsthand interviews. Perfect for design and building professionals who want to reinvent and renew their careers as well as students considering such a career, this is a vital and informative guide to a growing field." (ASID Icon, Fall 2012)