Beer: Health and Nutrition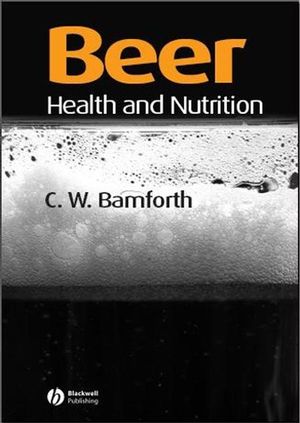 Beer: Health and Nutrition
ISBN: 978-0-470-77454-0 February 2008 Wiley-Blackwell 200 Pages
Description
This important and extremely interesting book is a serious scientific and authoritative overview of the implications of drinking beer as part of the human diet. Coverage includes a history of beer in the diet, an overview of beer production and beer compositional analysis, the impact of raw materials, the desirable and undesirable components in beer and the contribution of beer to health, and social issues.
Written by Professor Charlie Bamforth, well known for a lifetime's work in the brewing world, Beer: Health and Nutrition should find a place on the shelves of all those involved in providing dietary advice.
Table of contents
Preface.
Acknowledgements.
1 Beer as Part of the Diet.
Beer: a vice or a staple part of the diet?
Getting beer into perspective.
What is moderation?
But what about addiction?
Impacts on behaviour.
2 Beer Through History.
Brewing travels west.
Restraining excess.
Religious origins.
Maintaining standards.
Beer: a nutritious dish for the whole family.
Temperance pressures.
Towards prohibition.
3 The Basics of Malting and Brewing in Relation to Product Safety and Wholesomeness.
Chemical beer?
Basic outlines of malting and brewing.
Styles of beer.
The chemistry of beer.
4 The Basics of Human Nutrition.
Energy.
Phytonutrients.
Carbohydrate, fat and protein.
Vitamins.
Minerals.
Fibre.
Water.
Balance.
5 The Composition of Beer in Relation to Nutrition and Health.
Energy.
Carbohydrate, fat and protein.
Water.
Vitamins.
Minerals.
Fibre.
Comparison of beer with other foodstuffs for nutrient value.
Potentially deleterious components of beer.
Beer as a "treat".
6 The Impact of Alcohol on Health.
The metabolism of ethanol.
Direct and indirect impacts.
The heart and circulatory system.
The liver and the digestive system.
The Reproductive system.
Brain and cognitive function.
Kidney and urinary tract.
Age.
Cancer.
Allergy.
The common cold.
7 Conclusion.
References.
Index.
Reviews
"a very timely and interesting book...well-balanced...extremely readable...highly recommended". (
Journal of the Institute of Brewing
, Vol 111, No 2, 2005)
"easy and pleasant to read for both specialists or beginners in beer science" (Cerevisia - Belgian Journal of Brewing and Biotechnology, Vol 30, No 3, 2005)
Features
* great and ongoing interest in beer in the diet
* written by one of the world's leading experts in malting and brewing science
* a considered and balanced view of the scientific facts
* a wide range of end users will find this book of great value