Beginning ASP.NET 1.0 with C#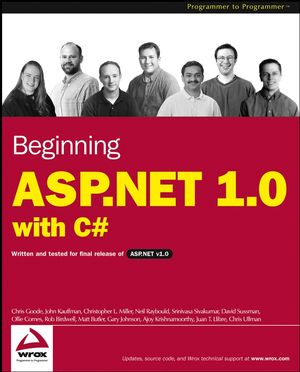 Beginning ASP.NET 1.0 with C#
ISBN: 978-0-764-55867-2
May 2004
888 pages
Product not available for purchase
Description
What is this book about?
ASP.NET 1.0 is the final release of Microsoft's Active Server Pages (ASP). It is a powerful server-based technology designed to create dynamic, interactive, HTML pages for web sites and corporate intranets. ASP.NET is a core element of Microsoft's exciting .NET vision, building on the strengths of the .NET Framework to provide many new features not seen in previous versions of ASP.
This book, entirely revised and updated for the final release, will provide you with a step-by-step introduction to ASP.NET using C#, with plenty of worked examples to help you to gain a deep understanding of what ASP.NET is all about, and how you can harness it to build powerful web applications.
What does this book cover?
In this book, you will learn how to
Create basic ASP.NET pages with C#
Understand the concepts of Object Oriented Programming
Work with data and XML
Debug and handling errors in your code
Use ASP.NET Server Controls
Create user controls and components
Explore the world of Web services
Optimize performance
Secure your application
By the end of this book you will be able to understand, adapt, maintain and secure ASP.NET web sites with ease.
Who is this book for?
This book is aimed at relatively inexperienced web builders who are looking to enrich their sites with dynamically-generated content, and want to learn how to start building web applications using ASP.NET. Developers who have a little experience with previous versions of ASP (and are looking to move over to ASP.NET), may also find this book helpful in getting a simple grasp on what ASP.NET is, what it does, and how it can be used. Experience of basic HTML is required, but previous experience of ASP is not essential. We'll be teaching the basics of C# in this book, so prior experience with the language is not required.
Introduction.
Chapter 1. Getting Started with ASP.NET.
Chapter 2. Anatomy of an ASP.NET Page.
Chapter 3. Forms and HTML Server Controls.
Chapter 4. Storing Information in C#.
Chapter 5. Introducing XML.
Chapter 6. Control Structures and Procedural Programming.
Chapter 7. Event-driven Programming and Postback.
Chapter 8. Introduction to Objects.
Chapter 9. Shared Members and Class Relationships.
Chapter 10. Objects in ASP.NET.
Chapter 11. Objects and Structured Data.
Chapter 12. Reading from Data Sources.
Chapter 13. Manipulating Data Sources.
Chapter 14. ASP.NET Server Controls.
Chapter 15. Reusable Code for ASP.NET.
Chapter 16. .NET Assemblies and Custom Controls.
Chapter 17. Debugging and Error Handling.
Chapter 18. Web Services.
Chapter 19. Configuration and Optimization.
Chapter 20. ASP.NET Security.
Index.
Chapter
Page
Details
Date
Print Run
49
Java/Servlets


It has been drawn to our attention that the section on Page 49 dealing with Server Side Technologies does not mention Java or Servlets. This was a minor oversight, and we will attempt to recify the omission in future editions

18-Oct-02
1

---

68
Additional Information for Visual Studio.NET Professional


Under VS.NET Professional you will find a file in: Under the Studio-NET Professional install that I have, I had to find the following page: ...\Microsoft Visual Studio .NET\FrameworkSDK\Samples\StartSamples.htm Run this file, and perform the steps that it suggests before attempting to run the Class Browser.

12-Nov-02
1

---

2
78
Missing quotes on label


the line of code <asp:label id=Message runat="server" />
should read

<asp:label id="Message" runat="server" /> <br/>
10-Oct-02
1

---

3
121
Redundant ListItem options


The id option for the checkboxlist's listitem elements are redundant, as it is defined in the checkbox that consumes them. It should read as follows:

<asp:checkboxlist id="check1" runat="server">
<asp:listitem runat="server" value="Madrid" />
<asp:listitem runat="server" value="Oslo" />
<asp:listitem runat="server" value="Lisbon" />
</asp:checkboxlist>
10-Oct-02
1

---

6
235
Error in for{} loop logic


The code line: for (int inCounter=0; intCounter < number ; intCounter ++ ) Should read:

for (int inCounter=0; intCounter < numberAttendees ; intCounter ++ )
10-Oct-02
1

---

563
Missing Control


It has been brought to our attention that there is another type of control, not covered in the book. This is the ValidationSummary control. In the interrim, more information can be found on MSDN at: http://msdn.microsoft.com/library/default.asp?url= /library/en-us/cpgenref/html /cpconvalidationsummarycontrol.asp

18-Oct-02
1

---

571
Missing Namespace Declaration


The first code block needs an additional namespace defined. This would be:

<%@ Import Namespace="System.Globalization" %>
29-Oct-02
2

---

571
Missing namespace in MyCalendar.aspx


There is a missing namespace reference in the web form for MyCalendar.aspx. The import statements for this Try It Out should read as follows:

<%@ Page Language = "c#" %.
<%@ Import Namespace="System.Data" %>
<%@ Import Namespace="System.IO" %>
<%@ Import Namespace="System.Globalization" %>
05-Nov-02
1

---