Beginning ASP.NET MVC 1.0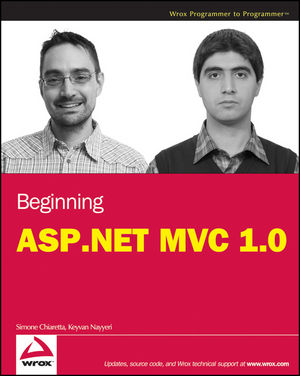 Description
ASP.NET MVC (Model View Framework) allows you to use ready-to-use MVC code so you can develop Web applications faster. This book?s cut-to-the-chase approach gets you up to speed on the new ASP.NET MVC without getting bogging you down in learning or re-learning ASP.NET itself. You?ll receive straightforward instruction on concepts, backed by real-world case studies and examples that offer practical solutions. Topics include test-driven development and unit testing, the principles of the MVC pattern, how to implement it, how to move from traditional ASP.NET Webforms to ASP.NET MVC, and much more.
Introduction.
Chapter 1: The Model-View-Controller Pattern.
Chapter 2: ASP.NET WebForms vs. ASP.NET MVC.
Chapter 3: Getting Started with ASP.NET MVC.
Chapter 4: The Model.
Chapter 5: The Controller.
Chapter 6: The View.
Chapter 7: Routing.
Chapter 8: Unit Testing Concepts.
Chapter 9: Testing ASP.NET MVC Applications.
Chapter 10: Components.
Chapter 11: Action Filters.
Chapter 12: AJAX.
Chapter 13: Deployment.
Chapter 14: Leveraging ASP.NET WebForm Features.
Chapter 15: Authentication and Authorization.
Chapter 16: Extending ASP.NET MVC.
Chapter 17: Migrating from ASP.NET WebForms.
Chapter 18: Case Study 1.
Chapter 19: Case Study 2.
Appendix A: Resources.
Appendix B: Exercise Solutions.
Index.
Chapter
Page
Details
Date
Print Run
214
Error in Text
In the class:

public ClimbList GetTopClimbs()

Line 2 of the query:

orderby r.Name

Should be:

orderby c.Name
12/10/09

---

1
6
Error in Text
Word error on the last line (process 5). It states "The output is the returned ..."

Should be "The output is then returned ..."
10/6/2010

---