Beginning Access 2003 VBA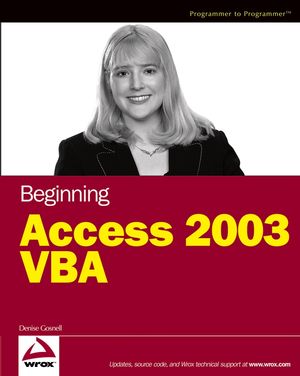 Description
What is this book about?
Written by an Access programmer with more than 10 years of VBA experience, this is the perfect guide for Access users who are ready to take their databases to the next level, or for programmers who are new to Access or VBA.  Veteran Access developer Denise Gosnell shows readers the ins and outs of Access VBA and provides plenty of source code, and fully developed sample applications to guide you along the way.
Not only do readers learn to build "stand-alone" desktop applications, but readers also learn how to integrate Access applications with Web Services, and SQL Server.
Introduction.
Chapter 1: Introduction to Access 2003 VBA.
Chapter 2: The Basics of Writing and Testing VBA Code.
Chapter 3: Programming Applications Using Objects.
Chapter 4: Creating Your Own Objects.
Chapter 5: Interacting with Data Using ADO and SQL.
Chapter 6: Building Interactive Forms.
Chapter 7: Importing, Linking, and Exporting Using External Data Sources.
Chapter 8: Creating Reports and Web-Enabled Output.
Chapter 9: Building SQL Server Applications with Access Projects.
Chapter 10: Advanced Access Programming.
Chapter 11: Finishing the Application.
Chapter 12: Case Study 1: Project Tracker Application.
Chapter 13: Case Study 2: Customer Service Application.
Appendix A: Exercise Answers.
Index.
Chapter
Page
Details
Date
Print Run
85
Error in Text
In the 'How It Works' section:
The IsNothing function returns a value of False if the objConnection object is equal to Nothing in which case you simply return a value of False to the caller of this function.

Should be:
The IsNothing function returns a value of True if the objConnection object is equal to Nothing in which case you simply return a value of False to the caller of this function.
8/29/06

---

4
112
Error in Code
Step 2 of "Try it Out":
the last line of the code:
End Function

should be:
End Sub
01/18/07

---

119
Error in Example
paragraph entitled "Creating Class Heirarchies":
example reads:
Public ItemDetails As OrderDetails

should read:
Public OrderDetails As Orders
01/19/07

---

165
Error in Code
Code line begins with: " 'execute the delete command against the database cmdCommand.Execute "

Should exclude the word "delete" because this is a SaveCurrentRecord procedure.
4/18/2011

---

170
Error in Text
The paragrpah beginning with the phrase:
"If the SaveAll procedure was being called because you're in AddNew Record mode, "

Should read:
"If the SaveCurrentRecord procedure was being called while you're in the AddNew Record mode, "
09/11/2006

---

5
Ch.5
Error in Code
If Not rsContacts.BOF Then (This evaluates true if first in form
rsContacts.MovePrevious
'save the id of the current (previous) record
intCurContact = rsContacts!intContactId
End If

should be: 'move to the next record in the local recordset since the
'current one is being deleted
If Not rsContacts.EOF Then
rsContacts.MoveNext
'save the id of the current (next) record
intCurContact = rsContacts!intContactId
End If
12/27/2007

---

346
Error in Multiple Steps
In the description of the following Steps, the "clsProjects" should be changed to "clsContacts":

Step 2, Page 346
Step 3, Page 348
Step 4, Page 349
Step 5, Page 349
Step 6, Page 350
Step 7, Page 351
Step 8, Page 351
8/31/06

---