Beginning ActionScript 2.0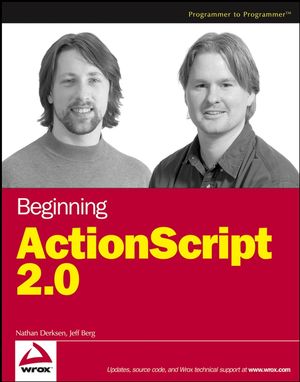 Description
Offering guidance in an exercise-oriented format that readers will find helpful, this book is the perfect mix of tutorial and hands-on coding
Written by a well-known and well-respected Flash development expert, this code-intensive guide shows readers how to work with objects, write and use various functions, handle dynamic data, and integrate with XML
Contains complete coverage of the ActionScript language, including data types, variables, events, and more
Addresses important topics such as understanding how code fits into a Flash project and where it goes, working with new screen technology, and scripting for video and sound
Note: CD-ROM/DVD and other supplementary materials are not included as part of eBook file.
Acknowledgments.
Introduction.
Chapter 1: Getting Started with Macromedia Flash.
Chapter 2: Getting Started with ActionScript 2.0.
Chapter 3: Understanding ActionScript Expressions and Loops.
Chapter 4: Exploring ActionScript Functions and Scope.
Chapter 5: Getting Started with Coding.
Chapter 6: Setting Up Flash Projects.
Chapter 7: Controlling Movie Clips.
Chapter 8: Pre-Loading Movies.
Chapter 9: Working with Components.
Chapter 10: Interacting with the User.
Chapter 11: Controlling Components.
Chapter 12: Debugging Debugged.
Chapter 13: Working with Vector Graphics.
Chapter 14: Applying Filter Effects.
Chapter 15: Working Directly with Bitmap Data.
Chapter 16: Using ActionScript for Animation.
Chapter 17: Automated Transitions.
Chapter 18: Handling Text.
Chapter 19: Using ActionScript for Media.
Chapter 20: Managing Video.
Chapter 21: Using ActionScript to Communicate with a Server.
Chapter 22: Reading XML.
Chapter 23: Communicating Between the Macromedia Flash Plug-in and the Browser.
Chapter 24: Putting JavaScript to Work.
Chapter 25: Uploading and Downloading Files.
Chapter 26: Communicating between the Flash Plug-in and the Operating System.
Chapter 27: Creating Custom Classes.
Appendix A: Exercise Answers.
Appendix B: Flash Keyboard Shortcuts.
Index.
Code Downloads

Download
Chapter 2 Files
Code downloads for this title are available here.
Download
Code Downloads

Chapter 2 Files
Code downloads for this title are available here.
Chapter 3 Files
The files for this title are stored in a ZIP archive. You may need WinZip or similar software to open them.
Download
Chapter 4 Files
The files for this title are stored in a ZIP archive. You may need WinZip or similar software to open them.
Download
Chapter 5 Files
The files for this title are stored in a ZIP archive. You may need WinZip or similar software to open them.
Download
Chapter 6 Files
The files for this title are stored in a ZIP archive. You may need WinZip or similar software to open them.
Download
Chapter 7 Files
The files for this title are stored in a ZIP archive. You may need WinZip or similar software to open them.
Download
Chapter 8 Files
The files for this title are stored in a ZIP archive. You may need WinZip or similar software to open them.
Download
Chapter 9 Files
The files for this title are stored in a ZIP archive. You may need WinZip or similar software to open them.
Download
Chapter 10 Files
The files for this title are stored in a ZIP archive. You may need WinZip or similar software to open them.
Download
Chapter 11 Files
The files for this title are stored in a ZIP archive. You may need WinZip or similar software to open them.
Download
Chapter 12 Files
The files for this title are stored in a ZIP archive. You may need WinZip or similar software to open them.
Download
Chapter 13 Files
The files for this title are stored in a ZIP archive. You may need WinZip or similar software to open them.
Download
Chapter 14 Files
The files for this title are stored in a ZIP archive. You may need WinZip or similar software to open them.
Download
Chapter 15 Files
The files for this title are stored in a ZIP archive. You may need WinZip or similar software to open them.
Download
Chapter 16 Files
The files for this title are stored in a ZIP archive. You may need WinZip or similar software to open them.
Download
Chapter 17 Files
The files for this title are stored in a ZIP archive. You may need WinZip or similar software to open them.
Download
Chapter 18 Files
The files for this title are stored in a ZIP archive. You may need WinZip or similar software to open them.
Download
Chapter 19 Files
The files for this title are stored in a ZIP archive. You may need WinZip or similar software to open them.
Download
Chapter 20 Files
The files for this title are stored in a ZIP archive. You may need WinZip or similar software to open them.
Download
Chapter 21 Files
The files for this title are stored in a ZIP archive. You may need WinZip or similar software to open them.
Download
Chapter 22 Files
The files for this title are stored in a ZIP archive. You may need WinZip or similar software to open them.
Download
Chapter 23 Files
The files for this title are stored in a ZIP archive. You may need WinZip or similar software to open them.
Download
Chapter 24 Files
The files for this title are stored in a ZIP archive. You may need WinZip or similar software to open them.
Download
Chapter 25 Files
The files for this title are stored in a ZIP archive. You may need WinZip or similar software to open them.
Download
Chapter 26 Files
The files for this title are stored in a ZIP archive. You may need WinZip or similar software to open them.
Download
Chapter 27 Files
The files for this title are stored in a ZIP archive. You may need WinZip or similar software to open them.
Download
Chapter
Page
Details
Date
Print Run
22
Typo in Code
first line of code in example reads:
result = 6 + 4 * 2; // result contains 12

should be:
result = 6 + 4* 2; // result contains 14
12/29/2007

---

36
Error in code
line 3 in last code example should read:
var ball2Clip:MovieClip = ball1Clip.duplicateMovieClip("ball2_mc", 2);
5/30/06

---

37
Error in code
last line should read: trace(specialDate.getDay()); //Returns 6, which is Saturday
5/30/06

---

38
Error in code
last line in second code example should read:
this.specialDateField.text = specialDate.toString();
5/30/06

---

57
Error in Step
Step 3 of breakdown of expression:
235370 - 235246 = 126

should be:
235370 - 235246 = 124
11/20/2006

---

73
Error in code
Second line in grey code block should read:
var vehicleTotals:Object = new Object();

Same change to the downloadable source code.


It will also work as follows:
var vehicleTotals:Array = new Array();

This latter form is not preferred, though, as the code is actually an associative array. The reasons for this are given earlier in chapter 2, page 45. To clarify, perhaps the comment on the first line of the code block should instead read:

// Set up associative array for tracking numbers and total weight for each type of vehicle
05/30/06

---

78
Error in Step
4th step:
4. Select Control > Test Movie.

should read:
4. Select Control > Debug Movie.
06/11/07

---

4
84
Error in code
The example at the very bottom code example reads:
"formatEmailAddress"

it should be:
"createEmailAddress"

The text reads as follows:

funtion formatEmailAddress(username:String, domainName:String):String
{
return userName + "@" + domainName;
}
var email1:String = createEmailAddress("jsmith", "somedomain.com");
trace(email)


It should read:

function createEmailAddress(username:String, domainName:String):String
{
return userName + "@" + domainName;
}
var email1:String = createEmailAddress("jsmith", "somedomain.com");
trace(email)

05/29/06

---

326
Error in Text
Under the example script on this page, the paragraph numbered 3 is not correct.

It should read:
"Test your movie in the debug player."
You will see two squares on the screen.
09/25/2006

---

90, 91
Inconsistency in Code
There appears an inconsistency between code listing p. 90 and discussion on p. 91:

line 10
"_level0" vs "this"

The line of code in the code listing should read:

newButton = this["button" + currentDepth];
07/11/2007

---

356
Typo
applyFiler

should be:
applyFilter

6/23/06

---

553
Error in text
Under the section "XMLSocket Class Methods and Events", at the bottom of the table, the last method reads:
"XMLSociet.send()".

It should be:
"XMLSocket.send()".
05/09/06

---