Beginning Dreamweaver MX 2004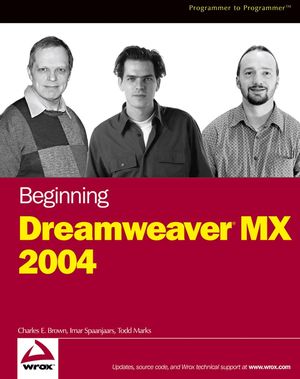 Beginning Dreamweaver MX 2004
ISBN: 978-0-764-56780-3
Jan 2004
792 pages
Product not available for purchase
Description
What is this book about?
This outstanding team of authors shows you how easy it can be to create and maintain dynamic, powerful Web sites using Dreamweaver MX 2004. Our hands-on tutorials guide you step by step through building three complete Web sites: a personal site, a dynamic sports site complete with user preferences, and a configurable online catalog built from reusable components. Along the way, you will learn all the skills you need to work confidently with Dreamweaver MX 2004.
You will also learn about Dreamweaver MX 2004's built-in support for ASP, ASP.NET, JavaServer pages, and PHP, and ColdFusion MX programming languages.
What does this book cover?
In this book, you will learn how to
Understand and manipulate the code Dreamweaver MX 2004 generates
Create, implement, and modify Cascading Style Sheets
Add dynamic effects with DHTML
Apply authentication and authorization techniques to protect your sites from unauthorized users
Store, retrieve, and display dynamic data
Design your sites with a modular system
Install and use Dreamweaver MX 2004 extensions
Who is this book for?
If you are new to Web development, this is the perfect guide to help you start creating attractive, functional Web sites quickly and easily using the Dreamweaver MX 2004 tool.
If you have already done some Web site programming in the past but you're new to Dreamweaver, this book will show you how to develop your sites with the skills you already have, but in far less time and with fewer bugs using Dreamweaver MX 2004.
About the Authors.
Introduction.
What Does This Book Cover?
How Is This Book Structured?
Section 1: The Cooking Place.
Section 2: The Soccer Site.
Section 3: MediaEdge and Building Blocks.
The Appendixes.
Why Not Try . . . .
Who Is This Book For?
What You Need for This Book.
Conventions.
Part I: The Cooking Place.
Chapter 1: Getting Started with Dreamweaver MX 2004.
Chapter 2: Creating a Web Site.
Chapter 3: Site Structure, Navigation, and Content.
Chapter 4: Style Sheets and Templates.
Chapter 5: Layers, Behaviors, and Dynamic Effects.
Chapter 6: User Interaction with ASP and Forms.
Part II: The Soccer Site.
Chapter 7: Adding Logic to Your ASP Pages.
Chapter 8: Keeping Track of Users.
Chapter 9: Securing Web Sites.
Chapter 10: Personalizing Web Sites.
Chapter 11: Getting Information from a Database.
Chapter 12: Retrieving and Displaying Data from Databases.
Chapter 13: Storing Information in a Database.
Part III: MediaEdge and Building Blocks.
Chapter 14: Designing an Effective Site with a Modular System.
Chapter 15: Creating the Building Block.
Chapter 16: Creating a Content Management System.
Chapter 17: Completing the Building Block Structure.
Chapter 18: Going Beyond with Dreamweaver MX 2004 Extensions.
Part IV: Appendixes.
Appendix A: Using ASP.NET with Dreamweaver MX 2004.
Appendix B: Using PHP and MySQL with Dreamweaver MX 2004.
Appendix C: Using JavaServer Pages with Dreamweaver MX 2004.
Appendix D: Using ColdFusion MX with Dreamweaver MX 2004.
Appendix E: Using a Remote Server.
Appendix F: Integrating Dreamweaver MX 2004 with Fireworks MX 2004 and Flash MX 2004.
"…the quality of information provided is impeccable…" (
PC Utilities
, June 2004)
"…hands-on tutorials take readers through creating three complete Web sites…."  (Mac World, May 2004)
Code Downloads
Code downloads for this title are available here.
Download code for Chapters 1-6

Code Downloads
Code downloads for this title are available here.
Download
Download code for Chapters 1-6

Download
Download all the code from the book.
Download all of the code from the book in .rar format. You will need a program like WinRAR to extract the files from the archive.
Download
Download code for Chapters 7-13

Download
Download code for Chapters 14-18

Download
Download code for Appendices A, B, C, D, and F

Download
Download the Why Not Try Exercises

Download
Chapter
Page
Details
Date
Print Run
9
Error in Text
first line:
as IIS Web browser
should read: this technology comes as part of its IIS Web server"
10/20/06

---

8,11,12,13
Include Files for Chapers 8, 11-13
Include files are listed like this:
<!-#include virtual="->
However, this should be
<!-- #include virtual=" -->
with two dashes on each site.
The dashes are crucial for the code to function / include the file.
The includes are used in Chapters 8, 11, 12 and 13.

2/28/05

---

183
Missing jpg file
We are aware that following step 11 on Page 183 of the book, there is a reference to a file called "images/layerImage.jpg" that does not exist in the downloadable code for "Chapters1-6.zip" and as a result the code will not run properly. The issue can be resolved by creating a .jpg file and naming it "images/layerImage.jpg" and saving it to the same directory with the rest of the code.
10/7/04

---

525
Error in Text
Page 525, Figure 14-8:

Text indicates:
A size of 60 pixels is specified for the table width.

Should specify:
600 pixels
09/12/2006

---