Beginning Excel Services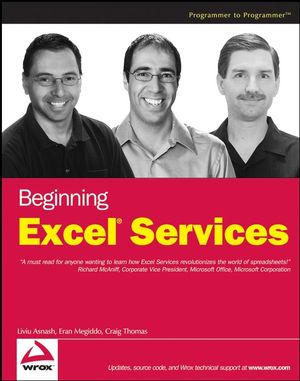 Description
Written by Microsoft's lead developers of Excel Services, this book shares their insights into the benefits and usage of Excel's new server technology so that you can solve business problems. You'll learn what Excel Services is for and how it is used, how to deploy an evaluation copy of the server and effectively administer it, and gain an understanding of how the server works. You'll also get step-by-step guidelines for using the server in each of the scenarios for which it was designed.
Acknowledgments.
Introduction.
Part I: Overview of Excel Services.
Chapter 1: Introduction to Excel Services.
Chapter 2: Getting Started with Excel Services.
Chapter 3: Architecture.
Part II: Working with Excel Services.
Chapter 4: Workbook Support.
Chapter 5: External Data.
Chapter 6: Capacity and Deployment Planning.
Chapter 7: Administration of Excel Services.
Chapter 8: Security.
Part III: How-To Scenarios.
Chapter 9: Sharing Workbooks with the Browser.
Chapter 10: Interacting with Workbooks in the Browser.
Chapter 11: Controlling Workbook Distribution.
Chapter 12: Business Intelligence Solutions.
Chapter 13: Offloading Workbook Calculation to the Server.
Chapter 14: Building Custom Solutions.
Appendix: Troubleshooting.
Index.