Beginning Expression Web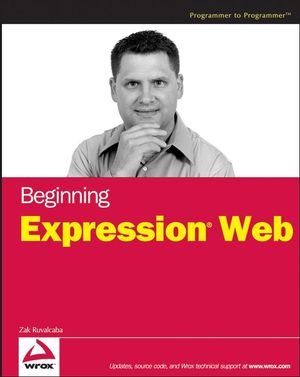 Description
Microsoft Expression Web gives you the tools to develop sophisticated sites that integrate standardized CSS layout with ASP.NET 2.0, XML, and SQL Server 2005. Written by an experienced ASP.NET and Dreamweaver Web developer, this book shows you how to take advantage of all of Expression Web's innovative features to create a memorable online experience. Expert tips and techniques on Web page structuring, page formatting style sheets, HTML forms, and more will show you how to design and develop new Web applications.
Acknowledgments.
Introduction.
Chapter 1: Introducing Microsoft Expression Web.
Chapter 2: Building a Web Page.
Chapter 3: Working with Web Sites.
Chapter 4: Working with Images, Media, and Hyperlinks.
Chapter 5: Page Formatting Using Cascading Style Sheets.
Chapter 6: Web Page Structuring Techniques by Using Tables.
Chapter 7: Advanced Page Structuring Techniques by Using Layers and CSS.
Chapter 8: Adding Interactivity with Behaviors.
Chapter 9: Working with HTML Forms and Form Controls.
Chapter10: Introduction to Web Application Development.
Chapter 11: Accessing and Displaying Database Data.
Chapter 12: Inserting, Editing, and Deleting Database Data.
Chapter 13: Validating User Input.
Chapter 14: Securing Your Web Applications.
Chapter 15: Working with XML Data.
Chapter 16: Building Accessible and Standards-Compliant Web Sites.
Index.
Expression Web Designer can be used to develop CSS-enabled sites that integrate standardized CSS layout with ASP.NET 2.0, XML, and SQL Server 2005
Written by an experienced ASP.NET Web developer, this book helps beginning- to intermediate-level Web developers create professional, standards-compliant Web sites and applications quickly
Task-oriented examples help readers build their own sites using Expression Web Developer
Each chapter completes a part of a sample Web site, while introducing technology topics and standards such as XHTML, CSS, client-side scripting, standards compliancy, and accessibility as required
Some of the core topics covered are Web page structuring techniques, page formatting using style sheets, working with HTML forms, and working with XML data
Downloads for Beginning Expression Web - 9780470073155
Code downloads for this title are available here.
Download
Downloads for Beginning Expression Web - 9780470073155
Code downloads for this title are available here.
Download
Downloads for Beginning Expression Web - 9780470073155
Code downloads for this title are available here.
Downloads for Beginning Expression Web - 9780470073155
Code downloads for this title are available here.
New Figure 14-13
Chapter 14, page 408. Here is the correct figure.
Download
Chapter
Page
Details
Date
Print Run
9
261
Error in URL
bullet list, last line of first bullet on page:

bold URL should be:
http://www.vectacorp.com/vc/scripts/contactus.asp
05/25/07

---

16
435
Error in URL
step 1:
www.vectacorp.com/downloads/

should be:
www.vectacorp.com/vc/downloads.
05/25/07

---

14
408
Figure 14-13 Correction
The correct figure is in the Downloads section.
6/12/07

---