Beginning Fedora 2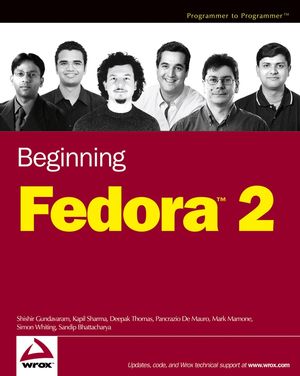 Beginning Fedora 2
ISBN: 978-0-764-56996-8
Jul 2004
665 pages
Product not available for purchase
Description
What is this book about?
Beginning Fedora 2 teaches you everything you need to know in order to install, configure, use, and maintain Fedora. This book targeted primarily at readers who are using (or planning to use) the Fedora Linux operating system for the first time. It offers the simple, plain-speaking guidance you need as you begin to explore the vast potential of open source software.
The key features of the book include the following:
Installing Linux, especially how to prepare so that you don't get any nasty surprises halfway through
The basics of Linux, including a tour of the desktop interface and how to use user accounts, the Linux file system, hardware configuration, and managing your machine's resources
Configuring your Linux machine to connect to the Internet, or to a local area network, so that you can start to send and receive e-mails and use the Internet
Installing new packages, upgrading packages, and removing packages
Exploring the many applications to perform everyday tasks, such as web browsers, office applications, and MP3 players
Explaining how to use the shell, including combining commands into a script, defining the input to (and output from) a script, and how to build logical structures into scripts, get them to run in specific circumstances, and manage multiple tasks at the same time
A detailed explanation of the Linux file system, how to manage your files and directories, and how to use the shell to generate and manipulate the output from predefined or custom scripts
Configuring your Linux machine to provide services to other machines on a network, such as how to set your machine up as a FTP server, a Web server, a file server, a printer servers, a mail server, or a DHCP server
Administration topics, such as how to analyze system log files and use them to track down problems with the system, backups and archives, tarballs, and explore how to customize and recompile the Linux kernel
Using scripting, specifically Perl, to automate the common task of managing the log files
Securing your machine using a firewall
New features include how to participate in the Fedora community, strategies for working in an unsupported environment, how to keep up with Core releases, and more!
About the Authors.
Introduction.
What Is Fedora?
Why Fedora?
What Is Linux?
Who Is Red Hat, Inc?
Why Linux?
Want to Participate?
Who Is This Book For?
What Is Covered in This Book?
What You Need to Use This Book.
Conventions.
Tell Us What You Think.
Errata.
Chapter 1: Installing Fedora 2.
Preparing for the Installation.
The Installation.
Chapter 2: Fedora 2 Basics.
Finding Your Way Around the Desktop.
The Filesystem.
Managing the Hardware.
Monitoring the System.
Using Load Average to Measure CPU Usage.
Configuring the Desktop.
Managing Processes.
Managing Services.
Managing Users.
Chapter 3: Connecting to the Internet.
Connecting to the Internet.
Connecting Securely.
Managing Multiple ISPs and Connections.
Software and Configuration.
Chapter 4: Everyday Applications.
Office Applications.
Internet Applications.
Personal Information Management.
Multimedia Applications.
System Utilities.
Chapter 5: The Filesystem.
What Is the Filesystem?
File Search Utilities.
Navigating the Filesystem.
Managing Drives and Partitions.
Filesystem Maintenance.
Chapter 6: The Shell.
The Shell as a Command Line Interface.
Built-in Programs and External Programs.
Some Common Shell Commands.
Special Keys and Shortcuts.
Command Line Syntax.
Configuring the Shell.
Managing Tasks.
Shell Scripting.
Chapter 7: Managing Your User Accounts.
The Purpose of Different User Accounts.
The User Manager.
How Linux Stores User Account Information.
Advanced User Account Management.
Advanced Group Management.
Users, Groups, and Filesystem Permissions.
When root Is Not Necessary.
Who Is Logged In?
Chapter 8: Installing and Updating Software.
What Is RPM?
The RPM Command Line Tool.
Building from Source.
Keeping Systems Up-to-Date.
Chapter 9: Building Networks.
Networking.
Setting Up a Web Server.
Setting Up an FTP Server.
Setting Up a Print Server.
Setting Up a File Server.
Setting Up a Mail Server.
Setting Up a DHCP Server.
Chapter 10: Security.
What Is Computer Security?
Countering the Threats.
Encryption and Verification.
Monitoring Security.
Network Security.
Security Enhanced Linux.
Security Awareness.
Where to Find Out More.
Chapter 11: Advanced System Administration.
System Configuration.
Logging.
Backing Up and Archiving.
Building from Source.
Chapter 12: Rebuilding the Linux Kernel.
Why Rebuild the Kernel?
Chapter 13: Managing Your System with Perl.
What Is Perl?
Installation.
Installing Extensions.
Learning Perl.
And Finally . . . .
Chapter 14: Contributing to the Fedora Project.
Communicating with Users and Developers.
Accessing the Source Code.
Chapter 15: Where to Now?
Online Resources and Licensing Schemes.
System Administration Applications.
Development Applications.
Appendix: Answers to Exercises.
Index.