Beginning Oracle Application Express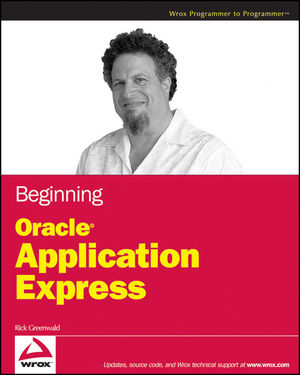 Beginning Oracle Application Express
ISBN: 978-0-470-38837-2
Dec 2008
384 pages
Product not available for purchase
Description
Oracle Application Express is an easy-to-use application development environment built on the Oracle technology stack. There are two aspects of that previous sentence that you may find jarring—that Oracle, a company widely known for its database technology, has an application development environment, and that Oracle, a company thought of as delivering high-end, enterprise-ready technology, has anything that is easy to use.

But, as this book will show, the introductory statement is completely accurate. Oracle Application Express, commonly known as Oracle APEX or simply APEX, does benefit from the long-established enterprise-class robustness that is the hallmark of Oracle technology. The applications you build will be able to support hundreds of users and many terabytes of data, scalability far beyond even the imagination of most other development environments.

This book is aimed at a particular group of users—those who are not familiar with Oracle Application Express. The book assumes that you have a basic knowledge of application development, the type you could get from playing around with a personal database such as Access. In fact, this book was written with an Access developer in mind—an Access developer looking to step up to a more scalable and reliable environment, with reduced maintenance overhead and greater integration between application systems.

This book covers the use of Oracle Application Express. Although the book is based on the 3.5 version, you can use the book with older versions as well. However, since the book will use a hosted version of Oracle Application Express, and since both the Oracle database that support the product and the product itself are available as free downloads from http://otn.oracle.com, you should be able to use the latest version easily.
I. Introducing Oracle Application Express.
1. Welcome to Oracle!
II. Building an Application with Application Express.
2. Jumpstart Oracle Application Express.
3. Extending Your APEX Application.
4. Validation, Calculation, Navigation and Lists.
5. Reporting and Charting.
6. Components Working Together.
7. Customizing User Interfaces.
8. PL/SQL.
9. Security.
III. Deploying the Application.
10. Deployment and Administration.
11. Packaged Applications.
12. Migration.
2
40
Error in Text,The reference to Figure 2-28 should be deleted from Step 5 and added to Step 7 on page 42.
6/15/09
2
42
Error in Text,The text for the second sentence of Step 7 should read "Select the ORDER_ITEMS table in the Available Columns list and move all the columns to the Displayed Columns list.
1/8/09
2
43
Error in Figure,Page 43 contains Figure 2-30 which is referenced in step 10 on page 42. The figure is not accurate because in step 10 the instruction specified that the field Master Row Navigation Order be set to ORDER_ID value instead of what is being shown in Figure 2-30, which is CUSTOMER_NAME instead.
1/8/09
3
58
Error in Figure,Figure 3-5 is missing an ORDER_ID column.

Also in Figure 3-5, there is a check in the Edit column. This implies that the column in the report is editable, like when you change the Tabular Form Element to Text Field. Since this is not the default setting for the column the check should be removed from Figure 3-5.
6/15/09
3
64-65
Error in Text,Page 64 - 65 instructs reader to update the default value of a data field called Order Timestamp to use SYSDATE and Default Value Type to PL/SQL Expression so that as new order is created a default date value is filled in automatically.

However, this will generate an Oracle Invalid Month error when the user tries to create a new order with the default date now in the format of DD-MM-YY with dash as the delimiter because the calendar picker defaults to the format of DD/MM/YY.

The missing step that needs to be mentioned after step 7 on page 65 is:

Under the Page Item section, change the Display As field from the default selection of Date Picker (DD/MM/YYYY) to new selection of Date Picker (DD-MM-YYYY).

The author mentions changing the formatting of this item, but it is in a later chapter, as step 2 on page 92.
1/8/09
4
92
Error in Text,For Step 2 on the page, you should change the format to DD-MON-YYYY to insure compatibility with all versions of APEX and Oracle 11g.
6/15/09
103
Error in Figure,In the Figure 4-14, in section Action, Page entry has the value 3, which should be 1, as instructed to do on page 101.
6/15/09
104
Error in Text,2nd Paragraph reads .. you want to send the user to Page 4, the report page, ...

It should read Page 1.
6/15/09
4
105-108
Error in Text,This text should go after step 14 on page 108:

The button will insert the first row and return the user to the same page. However, as part of the automatic processing, all the values for the items on this page are cleared, including the value for the ORDER_ID, which is required to link a new record to its order.

You can remedy this by modifying the branch logic.

15. Click on the conditional branch that was created when you created the button. Scroll to the Action area and click on flashlight next to the entry labeled Set these items.
16. Select the Pn_ORDER_ID (where n is the number of the page) for the Item, and &Pn_ORDER_ID. for the value (where n is the number of the previous page). Click Apply in the dialog box to return to the main page, and then Apply Changes on the main page.

You have now specified that the value of the ORDER_ID item is set properly with its associated order. To round out the functionality, you would also want to hide this button when the page is used for updating records.

17. Click on the entry for the button you just created and scroll to the Conditions area.
18. For the Condition Type, select Value of Item in Expression 1 is NULL.
19. Enter Pn_ORDER_ITEMS_ID as the value for Expression 1, where n is the number of the page. This setting will hide the button where the ORDER_ITEMS_ID is not null – in other words, when the record already exists and the page is updating the record.

Your newly modified form is ready to test.
6/15/09
243
Error in Figure,The figure on page 243 should have the field just added (Pn_ORDER_SHIP_DATE) as the last in the list of items.
1/7/09