Beginning Programming For Dummies, 4th Edition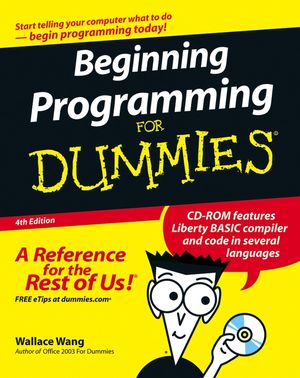 Beginning Programming For Dummies, 4th Edition
ISBN: 978-1-118-05107-8
Feb 2011
408 pages
Description
Do you think the programmers who work at your office are magical wizards who hold special powers that manipulate your computer? Believe it or not, anyone can learn how to write programs, and it doesn't take a higher math and science education to start.

Beginning Programming for Dummies shows you how computer programming works without all the technical details or hard programming language. It explores the common parts of every computer programming language and how to write for multiple platforms like Windows, Mac OS X, or Linux. This easily accessible guide provides you with the tools you need to:
Create programs and divide them into subprograms
Develop variables and use constants
Manipulate strings and convert them into numbers
Use an array as storage space
Reuse and rewrite code
Isolate data
Create a user interface
Write programs for the Internet
Utilize JavaScript and Java Applets
In addition to these essential building blocks, this guide features a companion CD-ROM containing Liberty BASIC compiler and code in several languages. It also provides valuable programming resources and lets you in on cool careers for programmers. With Beginning Programming of Dummies, you can take charge of your computer and begin programming today!
Introduction.
Part I: Programming a Computer.
Chapter 1: Learning Computer Programming for the First Time.
Chapter 2: All about Programming Languages.
Chapter 3: How to Write a Program.
Chapter 4: The Tools of a Computer Programmer.
Part II: The Building Blocks of Programming.
Chapter 5: Getting Started.
Chapter 6: The Structure of a Computer Program.
Chapter 7: Variables, Constants, and Comments.
Chapter 8: Crunching Numbers and Playing with Strings.
Chapter 9: Making Decisions with Branching Statements.
Chapter 10: Repeating Yourself with Loops.
Chapter 11: Dividing a Program into Subprograms.
Chapter 12: Storing Stuff in Arrays.
Chapter 13: Playing with Object-Oriented Programming.
Part III: Advanced Programming Topics.
Chapter 14: Sorting and Searching Algorithms.
Chapter 15: Debugging Programs.
Chapter 16: Optimizing Your Code.
Chapter 17: Creating a User Interface.
Part IV: Internet Programming.
Chapter 18: Playing with HTML.
Chapter 19: Making Interactive Web Pages with JavaScript.
Chapter 20: Using Java Applets on Web Pages.
Part V: The Part of Tens.
Chapter 21: Ten Additional Programming Resources.
Chapter 22: Ten Cool Programming Careers.
Appendix A: Common Loop and Branching Structures.
Appendix B: Free Language Compilers and Interpreters.
Appendix C: Common Programming Terms.
Appendix D: Installing the CD Compilers.
Index.
Wiley Publishing, Inc. End-User License Agreement.