Beginning Python: Using Python 2.6 and Python 3.1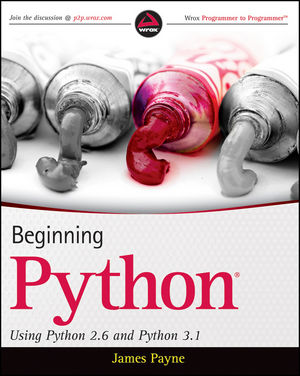 Beginning Python: Using Python 2.6 and Python 3.1
ISBN: 978-1-118-05730-8
Jan 2011
624 pages
Description
Beginning Python: Using Python 2.6 and Python 3.1 introduces this open source, portable, interpreted, object-oriented programming language that combines remarkable power with clear syntax. This book enables you to quickly create robust, reliable, and reusable Python applications by teaching the basics so you can quickly develop Web and scientific applications, incorporate databases, and master systems tasks on various operating systems, including Linux, MAC OS, and Windows. You'll get a comprehensive tutorial that guides you from writing simple, basic Python scripts all the way through complex concepts, and also features a reference of the standard modules with examples illustrating how to implement features in the various modules. Plus, the book covers using Python in specific program development domains, such as XML, databases, scientific applications, network programming, and Web development.

Note: CD-ROM/DVD and other supplementary materials are not included as part of eBook file.
Introduction.
Part I: Dipping Your Toe into Python.
Chapter 1: Programming Basics and Strings.
Chapter 2: Numbers and Operators.
Chapter 3: Variables -- Names for Values.
Part II: Python Language and the Standard Library.
Chapter 4: Making Decisions.
Chapter 5: Functions.
Chapter 6: Classes and Objects.
Chapter 7: Organizing Programs.
Chapter 8: Files and Directories.
Chapter 9: Other Features of the Language.
Chapter 10: Building a Module.
Chapter 11: Text Processing.
Part III: Putting Python to Work.
Chapter 12: Testing.
Chapter 13: Writing a GUI with Python.
Chapter 14: Accessing Databases.
Chapter 15: Using Python for XML.
Chapter 16: Network Programming.
Chapter 17: Extension Programming with C.
Chapter 18: Numerical Programming.
Chapter 19: An Introduction to Django.
Chapter 20: Web Applications and Web Services.
Chapter 21: Integrating Java with Python.
Part IV: Appendices.
Appendix A: Answers to the Exercises.
Appendix B: Online Resources.
Appendix C: What's New in Python 3.1.
Appendix D: Glossary.
Index.
Chapter
Page
Details
Date
Print Run
6
Error in Code,Current syntax:
raise TypeError, add_one requires a string, given a %s % type (food_name)

Correct syntax:
raise TypeError( add_one requires a string, given a %s % type (food_name) )
05/28/2010
11
Error in Text,In the Try It Out section, under the 2nd code example (under header �You could also just skip��):

John Everyman
should be:
'JohnEveryman'
not:
JohnEveryman

05/02/2011
12
Error in Code,In the code under �Joining Strings with the Print() Function�

The �p� in Print(�John��) function should be lower case� print(�John��).

05/02/2011
14
Error in Text,Exercise in ch 1 N0 1 says to type, rock a by....

It should say �print� in front of �rock��
10/20/2010
23
Error in Code,Under�some surprises� heading:

Update for Python 3.1.3 windows installation:
For >>>4023 - 22.4
Answer should be: 4000.6
not: 4000.5999999999999
05/02/2011
27
Error in Text, It may seem like a mistake that the second number printed is 12 when you � ve provided the string with a 10. However, octal only has 8 numbers (0 to 7), so from 0 to 10 in octal is 0, 1, 2, 3, 4, 5, 6, 7, 8, 10, 11.

When using the octal counting system you do not actually count the '8' aswell. So one should count as followed: 0, 1, 2, 3, 4, 5, 6, 7, 10, 11, 12
08/27/2010
40
Error in Code,There is a typo in the code.

menu_specials.value()

should be:

menu_specials.values()

07/15/2010