Beginning Radio and TV Newswriting: A Self-Instructional Learning Experience, 5th Edition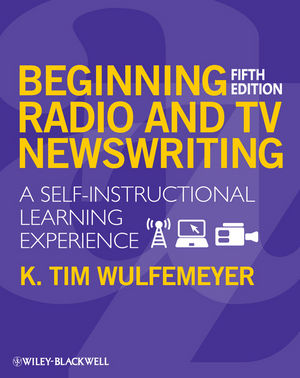 Beginning Radio and TV Newswriting: A Self-Instructional Learning Experience, 5th Edition
ISBN: 978-1-405-16042-1 May 2009 Wiley-Blackwell 154 Pages
Description
The fifth edition of this bestselling text instructs students on the basic styles, principles, and techniques of radio and TV newswriting. It makes an ideal supplement to basic newswriting texts or radio and TV industry texts.
Offers clear instruction, examples and exercises to guide beginning students in correct radio and TV news style

Fully updated and with even more examples, exercises and tests

The author has extensive radio and TV news experience, both on-the-air and behind the scenes as a producer, news writer, videographer, newscaster, sportscaster, host and reporter
Cannot be combined with any other offers.
Original Price:$125.75
Purchased together:$94.31
save $31.44
Cannot be combined with any other offers.
Original Price:$87.25
Purchased together:$65.44
save $21.81
Table of contents
Preface
Learning Objectives
Introduction
Radio-TV News Terminology
Part 1: Writing the Story:
Rewriting
Short, Lean Sentences
Brevity
Helping Listeners and Viewers
Tell the Story
Read the Story
Summary
Part 2: Using Radio-TV Style:
Leads
Names and Titles
Identification
Addresses
Ages
Attribution
Say It with Says
Repetition
Quotes
Facts or Opinions?
Aiding the Audience
Contractions
Pronouns
Verb Tense
Time Elements
Verb Voice
Rewriting Test
Answers to Rewriting Test
Abbreviations
Numbers
Punctuation
Copyediting
Script Style
Summary
The BIG Time
Exercises
Part 3: Writing Introductions:
Introducing Recorded Comments from Sources
Introducing Reporter Packages
Exercises
Part 4: Adding Visuals:
Writing for Television
Exercises
Summary
Congratulations
Appendix: United Press International Pronunciation Guide
Features
Offers clear instruction, examples and exercises to guide beginning students in correct radio-TV news style

Fully updated and with even more examples, exercises and tests

The author has extensive radio-TV news experience, both on-the-air and behind the scenes as a producer, news writer, videographer, newscaster, sportscaster, host and reporter