Beginning SharePoint 2007: Building Team Solutions with MOSS 2007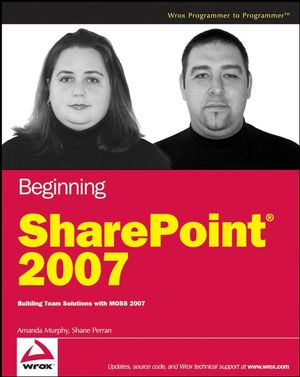 Description
Microsoft Office SharePoint Server 2007 has improved and changed dramatically over previous versions of the product. The capabilities of the platform have expanded greatly with the inclusion of an automated workflow engine, web content management capabilities, and a vast number of document management enhancements. However, the value of this tool to an enterprise will depend primarily on the ability of individuals in the organization to understand the features and capabilities of the platform and effectively map those to specific business requirements. This book is designed to mentor and coach business and technical leaders in an organization on the use of SharePoint to address critical information management problems. It gives detailed descriptions and illustrations of the product's functionality and also includes realistic usage scenarios to provide contextual relevance and a personalized learning experience to the reader.

The mission of this book is to provide extensive knowledge to information workers and site managers that will empower them to become SharePoint Application champions in the organization. This book should be the premiere handbook of any active or aspiring SharePoint expert.

To complete the exercises in this book, you should have a basic comfort level using Microsoft Office application to create content and a general understanding of how to interact with a web site through the browser. This book is intended as a starting point for any SharePoint 2007 user whether that user has never used SharePoint before or has some familiarity with a previous version and just wants to understand the differences with the new release.

 
Introduction.
Chapter 1: Getting Started with Microsoft Office SharePoint Server.
Introducing Portal Technologies and SharePoint.
Comparing WSS and SharePoint.
SharePoint Components Overview.
Chapter 2: Working with SharePoint Lists.
What Is a List?
Understanding the Standard List Templates.
Working with Lists.
Chapter 3: Working with SharePoint Libraries.
Understanding Libraries and Documents.
Understanding SharePoint Library Templates.
Chapter 4: Managing and Customizing Lists and Libraries.
Creating an Environment that Reflects Your Business.
Best Practices for Building a Dynamic System for Managing Content.
Working with Columns.
Creating and Customizing Views.
Working with Custom Lists and Libraries.
Chapter 5: Working with Workflow.
Types of Workflow Solutions.
Using Workflow Templates.
Custom Workflows with SharePoint Designer.
Chapter 6: Working with Content Types.
Content Types Overview.
Base Content Types.
The Anatomy of a Content Type.
Managing Content Types.
Chapter 7: Working with Web Parts.
The Anatomy of a Web Part Page.
Web Parts Basics.
Using the Various SharePoint Web Parts.
Chapter 8: Working with Sites and Workspaces.
Understanding Sites and Site Collections.
Site Management Overview.
Understanding and Working with the SharePoint Site Templates.
Modifying the Look and Feel of a Site.
Chapter 9: User Management, Audiences, and Profiles.
Understanding User Access Management and Personalization.
Managing Access in SharePoint.
Understanding User Profiles.
Working with Audiences.
Chapter 10: Working with Forms Services.
What Is InfoPath?
Creating and Customizing an InfoPath Form.
Using the Design Tasks Pane.
Working with Form Templates.
Chapter 11: Working with Excel Services.
Excel Services Overview.
Data Connections.
Business Scorecards.
Chapter 12: Working with the Business Data Catalog.
Business Data Catalog Overview.
Configuring a BDC Application.
Working with Web Parts and Lists in the BDC.
SharePoint List Integration.
Chapter 13: Getting Started with Web Content Management.
Web Content Management.
Publishing Features Overview.
Working with Variations.
Customizing the Look and Feel of a WCM Site.
Enabling Publishing on a Team Site.
Chapter 14: Working with Search.
Understanding SharePoint Search.
Working with the Search Feature.
Customizing and Managing Search.
Appendix A: Answers to Exercises.
Index.
Chapter
Page
Details
Date
Print Run
xxii
Error in Web Address
http//:p2p.wrox.com

should be:

http://p2p.wrox.com
07/26/2007

---

2
Error in Count
sentence before numbered list at bottom:
"ten reasons"

should be:
"eight reasons"
06/15/07

---

23
Error in Text
The last word in the paragraph that begins "All Day Events check box:..." should be respectively, as opposed to respectfully.
4/27/09

---

59
Typo in Text
Section "Review Document Version History," in the middle of the 1st paragraph:

"[...] option allows you to view this trial as well as [...]"

--> the word "trial" should be "trail"
10/2/09

---

162
Error in Step 1
Ital text above step 1 at bottom of page:
In steps 6 through 14

Should be:
In steps 4 through 10
08/05/08

---