Beginning SharePoint 2007 Administration: Windows SharePoint Services 3.0 and Microsoft Office SharePoint Server 2007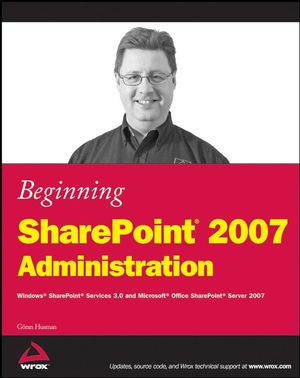 Description
While the main focus of this book is on SharePoint administration, you will also learn how to customize SharePoint by creating templates and using SharePoint Designer to enhance the look and feel of SharePoint sites. Microsoft MVP and author Göran Husman explores the differences between Microsoft Office SharePoint Server (MOSS) and Windows SharePoint Services (WSS), helps you decide if you need only WSS or if you should also implement MOSS, and much more.
Acknowledgements.
Introduction.
Chapter 1: Introduction to Microsoft SharePoint 2007.
Chapter 2: Installing Windows SharePoint Services.
Chapter 3: Configuring and Managing Windows SharePoint Services.
Chapter 4: Installing MS Office SharePoint Server 2007.
Chapter 5: Configuring and Managing MOSS 2007.
Chapter 6: Building Web Sites.
Chapter 7: Office Integration.
Chapter 8: Advanced Configurations.
Chapter 9: Web Content Management.
Chapter 10: File and Document Management.
Chapter 11: Intranet and Internet Sites.
Chapter 12: Customizing SharePoint 2007.
Chapter 13: SharePoint Designer 2007.
Chapter 14: Backup and Restore.
Index.
Chapter
Page
Details
Date
Print Run
xix
Typo
By sending in errata you may save another reader hours of frustration and at the same time you will be helping us provide even higher-quality information. w

The "w" should not be there.
07/13/2007

---

4
Typo
tsadm.exe

should be:
stsadm.exe
10/18/11

---

48
Error in Step
step 7d, 2nd line:
(for example rv1)

should be:
(for example srv1)
09/18/07

---

52
Error in Text
In the column 6c:

The second sentence reads "Switch to the Data Location tan,and select the disk and folder where the WSS files will be stored."

"tan"

should be:

"tab"
08/31/2007

---

56
Error in Text
paragraph after the heading "Doing a Backup of the Content Database"
2nd and 3rd lines:
The tool you must use here is TSADM.EXE.

should be:
The tool you must use here is STSADM.EXE
09/18/07

---

2
58
Error in Code
Page 58 - Try It Out Upgrade SQL Server 2005 Express to a Local MS SQL 2005 Server

Step 3: Lines 2-3

"Setup SKU-UPDATE=1 directly from the CD..."

Should be

"Setup SKUUPGRADE=1 directly from the CD..."
1/26/09

---

559
Error in Code
STSADM -Domain

should be:

STSADM -Directory
07/31/2007

---