Beginning Windows Phone 7 Application Development: Building Windows Phone Applications Using Silverlight and XNA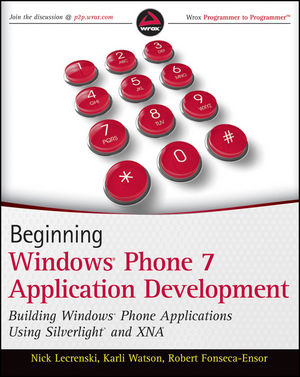 Description
Discover the core concepts essential for developing apps for Windows Phone
Silverlight and XNA provide you with a powerful development platform and key tools for programming Windows Phone 7 series applications. This book offers a foundation for using the tools required for Windows Phone 7 development, including Visual Studio 2010 Express Edition, the Windows Phone 7 Series SDK, and Silverlight. Experienced authors provide you with detailed coverage on developing accordingly for an application's lifetime, accessing cloud services, and developing notification services.
Explains how to use the most up-to-date tools and development platforms to create applications for the Windows Phone 7
Walks you through developing notification services and location services
Demonstrates ways to generate revenue by deploying your apps to the Windows Phone Marketplace
Details the steps for enabling trial periods for applications and providing updates and new versions of apps
If you're eager to get started developing applications for the Windows Phone 7, then this is the beginner guide for you.
INTRODUCTION.
CHAPTER 1: INTRODUCING WINDOWS PHONE 7.
CHAPTER 2: JAW-DROPPING APPS WITH THE HELP OF SILVERLIGHT.
CHAPTER 3: SPICE UP YOUR APP WITH SHAPES, COLORS, BRUSHES, AND TRANSFORMS.
CHAPTER 4: ADVANCED USER INTERFACE TECHNIQUES: STYLES, TEMPLATES, AND THE VISUAL STATE MANAGER.
CHAPTER 5: ISOLATED STORAGE, PAGE NAVIGATION, AND THE APPLICATION LIFE CYCLE.
CHAPTER 6: INTERACTING WITH THE HARDWARE.
CHAPTER 7: LAUNCHERS, CHOOSERS, AND ADVANCED USER INPUT.
CHAPTER 8: WINDOWS PHONE 7 SERVICES AND CLOUD SERVICES.
CHAPTER 9: CREATING AND CONSUMING WEB SERVICES.
CHAPTER 10: WEB SERVICES PUSH NOTIFICATIONS.
CHAPTER 11: XNA FOR WINDOWS PHONE 7.
CHAPTER 12: MICROSOFT EXPRESSION BLEND.
CHAPTER 13: USING THE SILVERLIGHT FOR WINDOWS PHONE TOOLKIT AND CREATING PANORAMIC USER INTERFACES.
CHAPTER 14: PATTERNS, FRAMEWORKS, AND TESTS.
CHAPTER 15: PUBLISHING YOUR APPLICATION.
APPENDIX: SOLUTIONS TO EXERCISES.
INDEX.
Chapter
Page
Details
Date
Print Run
3
93
Missing "using" Statement,Listing 3-7: MainPage.xaml.cs

Code as is gives the following error:

 Error   1          The type or namespace name 'DispatcherTimer' could not be found (are you missing a using directive or an assembly reference?)        


Code download correct--the book listing is missing the following statement:


 using System.Windows.Threading;

7/29/11