Beginning iPhone SDK Programming with Objective-C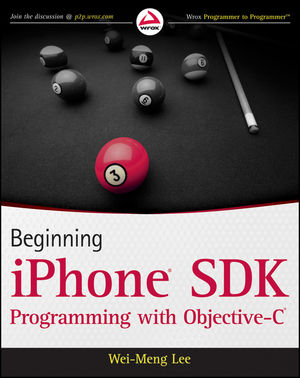 Description
Everything you need to know to start creating native applications for the iPhone and iPod Touch
The iPhone SDK and the Xcode tools are the official Apple tools used for creating native iPhone applications. This information-packed book presents a complete introduction to the iPhone SDK and the Xcode tools, as well as the Objective-C language that is necessary to create these native applications. Solid coverage and real-world examples walk you through the process for developing mobile applications for the iPhone that can then be distributed through Apple's iTunes Application store.
The hands-on approach shows you how to develop your first iPhone application while getting you acquainted with the iPhone SDK and the array of Xcode tools. A thorough tutorial on the features and syntax of the Objective-C language helps you get the most out of the iPhone SDK, and an in-depth look at the features of the iPhone SDK enables you to maximize each of these features in your applications.
Provides an introductory look at how the iPhone SDK and Xcode tools work with the Objective-C language to create native iPhone applications
Familiarizes you with the latest version of the iPhone SDK and the newest Xcode tools that ship with Snow Leopard
Walks you through developing your first iPhone applications
Focuses on the features and syntax of the Objective-C language so that you can get the most out of the iPhone SDK
With this hands-on guide, you'll quickly get started developing applications for the iPhone with both the iPhone SDK and the latest Xcode tools.
Note: CD-ROM/DVD and other supplementary materials are not included as part of eBook file.
INTRODUCTION.
PART I GETTING STARTED.
CHAPTER 1 Getting Started with iPhone Programming.
CHAPTER 2 Write Your First Hello World! Application.
CHAPTER 3 Outlets, Actions, and View Controllers.
CHAPTER 4 Exploring the Views.
CHAPTER 5 Keyboard Inputs.
CHAPTER 6 Screen Rotations.
PART II BUILDING DIFFERENT TYPES OF IPHONE APPLICATIONS.
CHAPTER 7 View Controllers.
CHAPTER 8 Tab Bar and Navigation Applications.
CHAPTER 9 Utility Applications.
PART III DISPLAYING AND PERSISTING DATA.
CHAPTER 10 Using the Table View.
CHAPTER 11 Application Preferences.
CHAPTER 12 Database Storage Using SQLite3.
CHAPTER 13 File Handling.
PART IV ADVANCED IPHONE PROGRAMMING TECHNIQUES.
CHAPTER 14 Programming Multi-touch Applications.
CHAPTER 15 Simple Animations.
CHAPTER 16 Accessing Built-in Applications.
CHAPTER 17 Accessing the Hardware.
PART V APPENDICES.
APPENDIX A Answers to Exercises.
APPENDIX B Getting Around in Xcode.
APPENDIX C Getting Around in Interface Builder.
APPENDIX D Crash Course in Objective-C.
APPENDIX E Testing on an Actual iPhone or iPod Touch.
INDEX.
Chapter
Page
Details
Date
Print Run
2, 3
36, 52
Updates to Text,Chapter 2, page 36, Chapter 3, page 52:

Changes in the latest version of Interface Builder (3.2.1) alter the way in which you create outlets and actions.

Explanation of the changes are here:
http://weimenglee.blogspot.com/2010/01/notes-on-changes-in-interface-builder.html


1/27/10