Behavioural Finance: Insights into Irrational Minds and Markets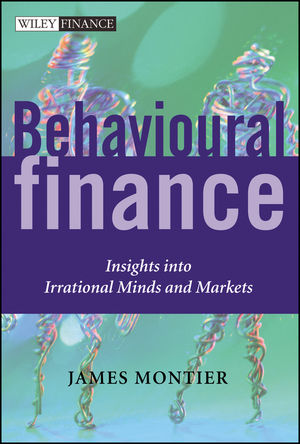 Behavioural Finance: Insights into Irrational Minds and Markets
ISBN: 978-0-470-84487-8 October 2002 212 Pages
Description
A concrete guide that links the theory of behavioral finance with applications in financial products
Behavioral finance is a rapidly expanding field, with major implications for the way in which the investment process is conducted. Behavioural Finance links the concepts of behavioral finance to measurable variables and smarter investment decision making. Comprehensive coverage relating theory to practical investment analysis provides a usable, practical guide for real-world situations.
Cannot be combined with any other offers.
Original Price:$282.00
Purchased together:$211.50
save $70.50
Table of contents
Preface.
Introduction.
1. Psychological Foundations.
Introduction.
Biases of Judgement or Perception is Reality.
Errors of Preference or There is No Such Thing as Context-free Decision Making.
Conclusions.
2. Imperfect Markets and Limited Arbitrage.
Introduction.
Ketchup Economics.
Efficiency and LOOP.
Stock Market.
Other Markets.
Imperfect Substitutes.
Limited Arbitrage.
Positive Feedback Trading.
Risk Management and Limited Arbitrage.
On the Survival of Noise Traders.
Informational Imperfections.
Conclusions.
3. Style Investing.
Introduction.
The Data.
The History.
Potential Gains to Style Rotation.
Life Cycle of an Investment Style.
Value vs. Growth: Risk or Behavioural?
Style Rotation.
Quantitative Screens.
Timing the Switch.
Conclusions.
4. Stock Valuation.
Introduction.
Keynes' Beauty Competition.
The (Ir)relevance of Fundamentals.
Valuation and Behavioural Biases.
Cost of Capital.
Factors from Limited Arbitrage.
An Analyst's Guide.
5. Portfolio Construction and Risk Management.
Introduction.
Covariances.
Correlations.
Distribution of Returns.
Fat Tails or Outliers?
6. Asset Allocation.
Introduction.
Markets and Fundamentals.
Dividend Yield, Spreads and Ratios.
Earnings Yield, Spreads and Ratios.
Payout Ratio.
The Equity Risk Premium.
Should Corporate Financiers be Running TAA?
Market Liquidity.
Crashes as Critical Points.
7. Corporate Finance.
Introduction.
Irrational Managers/Rational Markets.
Rational Managers/Irrational Markets.
Conclusions.
8. The Indicators.
Introduction.
Liquidity Measures.
Sentiment Measures.
Asset Allocation Measures.
Earnings Measures.
Technical Measures.
Others.
Final Thoughts.
Bibliography.
Index.
Reviews
"...The finding is surprising, as the City is notoriously full of arrogant young men betting on financial markets…Mr Montier has unearthed bizarre facts which suggest stock markets are frequently driven by entirely irrational factors..." (The Daily Telegraph 25 November 2002)
"...In a new book, James Montier…outlines practical methods for exploiting the anomalies thrown up by behavioural finance..." (Financial Times, 25 November 2002)
"…a good introduction to this subject…." (Professional Investor, March 2003)