Being Interprofessional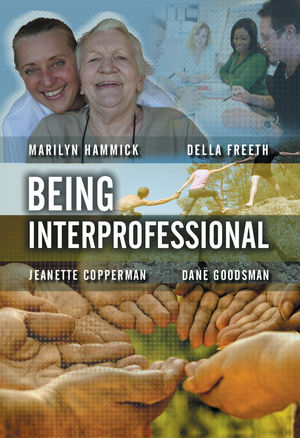 Being Interprofessional
ISBN: 978-1-509-50492-3 June 2015 Polity 208 Pages
Description
Working interprofessionally is an essential part of successful health and social care provision in the twenty-first century. This engaging and easy-to-follow new text highlights the need for collaboration between practitioners from all branches of health and social care. It offers an indispensable guide to learning and working better together, and shows what being interprofessional really means.

The book encourages students to sharpen their understanding of concepts and theories surrounding collaborative practice, with a clear emphasis on theory, policy and practice. Chapter-by-chapter, the book takes readers through the most important and relevant issues in contemporary health and social care, including working in teams, learning from others, policy issues, working with children and adults, and specialist practice.

Through student-friendly case studies and thoughtful learning exercises, it also considers ways of applying these ideas to the real world. It covers work across the statutory, voluntary and community sectors, drawing on the insights and experiences of a wide range of service users, carers and a variety of practitioners.

Being Interprofessional will be essential reading for students and practitioners in all branches of health and social care, such as nursing, social work, midwifery and youth work. Whatever their background, it will inspire readers to find new ways of working together to meet the needs of patients and clients.
About the authors.
Introducing this book.
PART ONE Setting the Scene.
Chapter 1 Being Interprofessional: Models and Meaning.
Chapter 2 Being Interprofessional: Imperatives and Key Principles.
Chapter 3 Learning and Working in Teams.
Chapter 4 Being Interprofessional in Complex Situations.
PART TWO About, from and with….
Chapter 5 Learning about, from and with other practitioners.
Chapter 6 Learning about, from and with service users.
Chapter 7 Learning about, from and with carers.
Chapter 8 The statutory, community, voluntary and private sectors: learning about, from and with each other.
PART THREE Drawing together the threads.
Chapter 9 Sharing Information: the Continuing Challenge.
Chapter 10 Being Interprofessional: A Twenty-First-Century Career.
Glossary and Useful Organizations.
Bibliography
"Offers some excellent practical guidance to assist those training to become public sector professionals to meet the need for successful collaborative practice."
Community Care
"The authors do a very good job of presenting a complex and dynamic aspect of contemporary professional work in very practical terms and in an easy to read format."
Work, Employment and Society
"Marilyn Hammick and her colleagues take this book beyond the usual well-meaning exhortations and uncover what it means to learn and practise in a collaborative context. The engaging style conveys complex messages in a direct way that will be helpful for undergraduate students and practitioners."
Fiona Ross, Kingston University and St George's, University of London
"Throughout the UK, universities are weaving interprofessional education into undergraduate professional programmes to enable students to respond positively, purposefully and intelligently to demands for closer collaboration. Much has been written to help faculty re-orientate their teaching, less to help students to re-orientate their learning, none as rigorously as does this book to help them to become interprofessional and to understand their obligations to each other, to the public and to society."
Hugh Barr, President of the Centre for the Advancement of Interprofessional Education and Joint Editor-in-Chief, Journal of Interprofessional Care
"Being Interprofessional has been written by the leading experts in interprofessional education and will be essential reading not only for students engaged in interprofessional learning but also to their tutors and those involved in programme development."
Michael Pittilo, Robert Gordon University
This book has a potentially huge market right across the allied health, social care and education professions.

Working interprofessionally is the new concept in vogue for effective health and social care provision and right at the top of the agenda in teaching in the related professions.

Other books on the market are higher level for students with more experience: this book is designed for those beginning their studies to introduce collaborative working.

It is engaging and easy-to-follow, with student features such as real-life case studies, thoughtful learning exercises, thought-provoking illustrative material and chapter aims/summaries.

Covers work across the statutory, voluntary and community sectors, and includes insights from a whole range of service users, practitioners and carers – truly comprehensive, offering something for all health and social care professions.

A great team of authors with wide experience – Marilyn Hammick in particular is very well respected and considered a leading figure in the area.