Being The Best Man For Dummies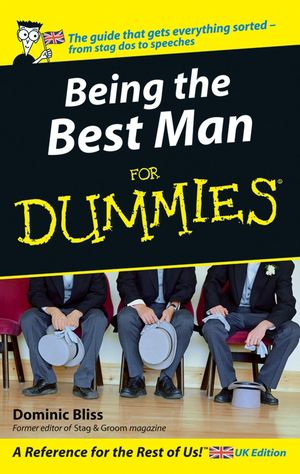 Being The Best Man For Dummies
ISBN: 978-1-119-99634-7
Feb 2011
184 pages
Description
Being best man is both an honour and a huge responsibility - if you think it's just a case of buying a few beers on a lad's night out, think again! You'e got a lot of organising to do, there's etiquette to follow and, of course, the dreaded speech to make. Fear not, however, as Being the Best Man For Dummies is here to help. It's a humorous, yet information-packed step-by-step guide to your role and responsibilities, from organising the stag night (or weekend) right through to the big day itself. It also gives tips and advice for you to give the best speech you can.
Introduction.
Part I: Initial Duties and the Stag Party.
Chapter 1: Best Man Basics.
Chapter 2: Stag Dos and Stag Don'ts.
Chapter 3: The Stag Party.
Part II: Wedding Preparations and the Big Day.
Chapter 4: The Build-up to the Big Day.
Chapter 5: The Morning of the Wedding.
Chapter 6: The Actual Ceremony.
Chapter 7: The Wedding Reception.
Part III: The Speech.
Chapter 8: Writing The Speech.
Chapter 9: Delivering and Presenting Your Speech.
Part IV: The Part Of Tens.
Chapter 10: Ten Great Ideas for the Stag Do.
Chapter 11: Ten Best Stag Do Destinations.
Chapter 12: Ten Wedding Nightmare Scenarios.
Appendix: Surfing The Best Man Web.
Index.
""…simple, clear and concise…"" (
Nottingham Evening Post
, July 2006)
""Funny and practical"" (Pure Weddings, Autumn/Winter edition) 
""…clear, bright, easy…everything you need to know …Grooms, get your mate this book or risk kissing your wedding goodbye."" (Lads Mag, August 2006)
""this book will help you through the worst and the best of it all. Buy it."" (Front Magazine, September 2006) 
""For extra hints and tips…"" (For The Bride, October 2006)
""…funny and practical…"" (Pure Weddings, October 2006)
""…a humorous, yet information-packed step-by-step guide to your role and responsibilities."" (Medway Messenger, Monday 10th March 2008)
""…a humorous, yet information-packed step-by-step guide to your role and responsibilities."" (Kentish Gazette, Thursday 13th March 2008)