Being a Great Dad For Dummies, Australian and New Zealand Edition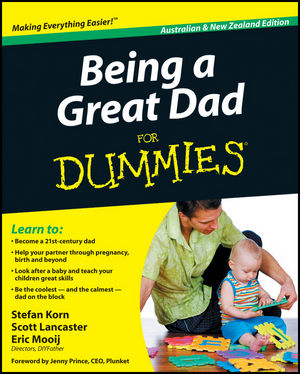 Being a Great Dad For Dummies, Australian and New Zealand Edition
ISBN: 978-1-742-16972-9
Sep 2011
416 pages
Description
Created especially for the Australian customer!
Your essential guide to being the best dad you can be
Have you just found out you're going to be a dad, or perhaps you're already a brand new dad? Being a Great Dad is a comprehensive and practical guide to For Dummies dadhood, with advice on topics ranging from conception to looking after your baby, connecting with your little one and helping your child develop and grow.
Know what to expect during pregnancy and birth -- be prepared as your baby grows and enters the world
Prepare for a baby in the house -- find out the essential gear you'll need
Keep baby safe and sound -- tips on how to baby proof your home and keep junior safe
Be a hands-on dad - learn practical solutions to common parenting challenges
Manage the work-life balance -- find out how to balance your work commitments and life outside work
Be a stay-at-home-dad -- discover how to combine being primary care-giver for your child with paid work
Choose the right school for your child -- examine the education choices available and what's best for your little one
Introduction.
Part I: From Here to Paternity: Conception to Birth.
Chapter 1: Fatherhood.
Chapter 2: Getting Pregnant.
Chapter 3: Pregnancy: A Drama in Three Acts.
Chapter 4: Preparing for a Baby in the House.
Chapter 5: Birth.
Part II: The First Year.
Chapter 6: Being Dad to a Newborn.
Chapter 7: The First Three Months.
Chapter 8: Months Three to Six.
Chapter 9: Months Six to Twelve.
Part III: The Toddler Years.
Chapter 10: Toddling Towards Two: Months 12–24.
Chapter 11: Charging Towards Three: Months 24–36.
Chapter 12: More Babies: Brothers and Sisters.
Part IV: The Preschool Years.
Chapter 13: Fun and Games.
Chapter 14: Health and Nutrition.
Chapter 15: Education.
Part V: What Happens When.
Chapter 16: Stay-at-home Dad.
Chapter 17: Serious Illness and Losing Your Baby.
Chapter 18: Disabilities, Disorders and Special Conditions.
Chapter 19: Divorce and Separation.
Part VI: The Part of Tens.
Chapter 20: Ten Ways to Improve Your Partner's Pregnancy Experience.
Chapter 21: Ten Ways to Bond with Your Newborn Baby.
Chapter 22: Ten Ways to Engage with a Toddler.
Appendix: Resources for Dads.
Glossary.
Index.