Being the Best: The A-Z of Personal Success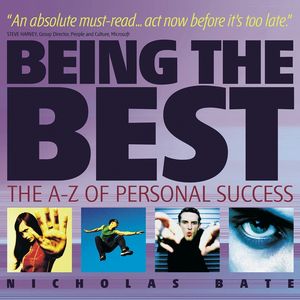 Being the Best: The A-Z of Personal Success
ISBN: 978-1-841-12521-3
Jul 2007, Capstone
210 pages
Description
""An absolute must read! It encapsulates the principles which we have used as a fundamental part of our people strategy here at microsoft in the uk 'creating an environment where great people can do their best work', the foundation of which is there will come a time when people will choose which employer they contract with, not the other way around'. Act now before it is too late""
—Steve Harvey, Group Director, People and Culture, Microsoft UK.

""Nicholas brings the best personal development training with simple sysytems and strategies for growth. He has helped me and many others here take a grip of their lives and fast forward to the results they desire.""
—Michael Wood, Retail Academy, Marks & Spencer
Introduction.
A is Attention.
B is Belief.
C is Compass.
D is Decision.
E is Emotional Intelligence or EQ.
F is Fear.
G is Goal-Setting Formula.
H is Hero.
I is ""I"" or Internally Referenced.
J is Journey.
K is Killer App.
L is Lifelong Learning.
M is Motivation.
N is Niche.
O is Organized.
P is Passion.
Q is Quantum Leap.
R is Rainmaker.
S is Success.
T is Today.
U is Uncertainty.
V is Vision.
W is Who.
X represent Multiply.
Y is Yin and Yang.
Z is Zen and the Art of Being Successful.
Journey, not Destination.
""…this is a book for people who want ideas and actions…"" (
Luton News
, 10 September 2003)
""…According to Nicholas Bate.... 'A' is not for apple but attention, 'B' is for belief and so on through to 'Z' which, pleasingly, is for 'Zen and the art of being successful'..."" (Financial Times, 11 December 2003)
""…For those who are mystified by today's shelves of self-help books, BtB is a good place to start…"" (Gulf Business, January 2004)
""…this handbook by Bate is far and away the most encouraging one that I have seen…this is a great book…"" (City to Cities, February/March 2004)
""This is a good read for managers and students alike…"" (Manager, March 2004)
""… refreshingly stimulating and provocative. If you want to be the best then you should find it very useful."" (Professional Manager, May 2004)
""… This book maintains an edge over other self-help books, because Bate's ideas are practical….""  (Edge, October 2004) 
""…a truly inspiring book…easy to read and digest…"" (Executive PA, Spring 2005)