Beneath the Mask: An Introduction to Theories of Personality, 8th Edition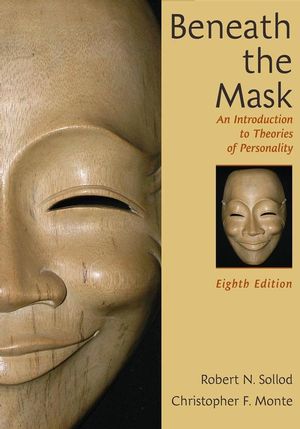 Beneath the Mask: An Introduction to Theories of Personality, 8th Edition
ISBN: 978-0-471-72412-4
Jan 2008
640 pages
Description
Beneath the Mask presents classic theories of human nature, much as each theorist might if the theorist were to teach his or her ideas to people encountering them for the first time. Through a theorist-by-theorist approach, this Eighth Edition continues to explore the ideas of personality theorists developmentally, incorporating the personal origins of ideas to illuminate links between the psychology of each theorist and that theorist's own psychology of persons. Beneath the Mask presents the "sequence of thinking" for more than 20 theorists and demonstrates how the thinking that led to major theories is nested in the life experience of the theorists within the context of the surrounding culture. The authors emphasize each theorist's life history as the basis for the ideas that constitute his or her theories, making them easier to understand as "pictures of human nature."

John P. Wilson has revised the text in a manner that preserves and improves upon the best features of the late Robert N. Sollod and Christopher Monte's work.

1. Basic Issues: How to Approach the Study of Personality Theories.
2. Sigmund Freud / Psychoanalysis: The Clinical Evidence.
3. Sigmund Freud / Psychoanalysis: The Dynamic Model of the Mind.
4. Alfred Adler / Individual Psychology.
5. Carl Gustav Jung / Analytical Psychology.
6. Anna Freud / Widening the Scope of Psychoanalysis: Ego Psychology.
7. Melanie Klein & D.W. Winnicott / The Psychoanalytic Heritage: Object Relations Theory.
8. Erik Homburger Erikson / Psychoanalytic Ego Psychology: The Centrality of Identity.
9. Harry Stack Sullivan / Interpersonal Theory.
10. Karen Horney / Psychoanalytic Social Psychology.
11. Gordon W. Allport / Humanistic Trait and Self Theory.
12. Rollo May / Existential Phenomenology.
13. Abraham Maslow & Carl Rogers / Humanistic Self-Actualization Theory.
14. George A. Kelly / Personal Construct Theory.
15. Albert Bandura / Social Cognitive Theory.
16. Hans Eysenck / Biologically Based Typology.
17. Edward O. Wilson / Evolutionary Psychology.
Dates and places of the major theorists' births and deaths are listed at the beginning of each chapter.
Only Connect Boxes included in most chapters point out connections between the ideas of one theorist and other ideas, usually of other theorists.
Glossaries of terms and concepts have been included for each chapter. Terms are defined as used by the theorist or theories emphasized in each chapter.
Each chapter features an examination of the strong and weak points of each theory, giving students a more comprehensive and critical view of where each theory fits in the study of personality.
The authors emphasize each theorist's life history as the basis for the ideas that constitute his or her theories, making them viewable as