Beowulf: An Edition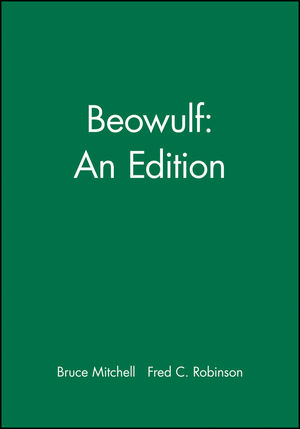 Beowulf: An Edition
ISBN: 978-0-631-17226-0 November 1998 Wiley-Blackwell 332 Pages
Description
This magnificent new edition, which includes relevant shorter texts and key illustrations, is designed specifically to help those who, while already enjoying some acquaintance with Old English, come to Beowulf for the first time.
Foreword.
Acknowledgements.
List of Figures/Illustrations.
Map: The Geography of Beowulf.
Part I: Introduction:.
1. Manuscript.
2. Date, Place, and Circumstances, of Composition.
3. Language.
4. Structure.
5. Tone, Style, and Metre.
6. Subject Matter.
7. Two Views of Beowulf.
Part II: Text and Notes:.
Part III: How We Arrived At Our Text:.
8. Problems in Editing the Text.
9. Punctuation.
Part IV: The Background:.
10. Genealogical Tables.
11. The Geatish-Swedish Wars.
12. Archaeology and Beowulf.
13. Some Related Poems In Old English:.
14. Widsith.
15. Deor.
16. Waldere.
17. The Battle Of Finnesburh.
18. Maxims I.
19. Documents Bearing on Beowulf:.
20. Genealogies.
21. Cain And Abel.
22. The Flood.
23. Letter Of Alcuin To A Mercian Bishop, 797.
24. Hygelac.
25. The Flight Behind The Waterfall.
26. The Dragon Fight.
Bibliography.
Short Titles.
Suggestions For Further Reading.
Glossary.
Abbreviations and Symbols.
Notes on the Glossary.
Glossary of Beowulf.
Proper Names.
"Mitchell and Robinson's
Beowulf: An Edition
has all of the features one hopes to find in a classroom edition: glossary, notes, copious but clear explanatory material. But it is more than an edition. It is a distillation of decades of affectionate attention to the poem by two of the top scholars in the field. From the smallest of details like punctuation to the broadest interpretations, Mitchell and Robinson display an abiding respect and admiration for the magnificent artistry of
Beowulf.
"
Daniel Donoghue, Harvard University

"This is an admirable introduction to the poem." Forum for Modern Language Studies

"[...] we should rejoice in what Mitchell and Robinson have provided: a new student's edition of a masterpiece of Old English poetry that has made Beowulf much more accessible to a whole new generation of students." Journal of English and Germanic Philology<!--end-->
Provides a text specifically designed for students coming to Beowulf for the first time
Gives detailed background to the poem including an important essay on archaeology andBeowulf by Leslie Webster of the British Museum
Offers relevant shorter texts and key illustrations
Provides a full glossary.