Bergin and Garfield's Handbook of Psychotherapy and Behavior Change, 5th Edition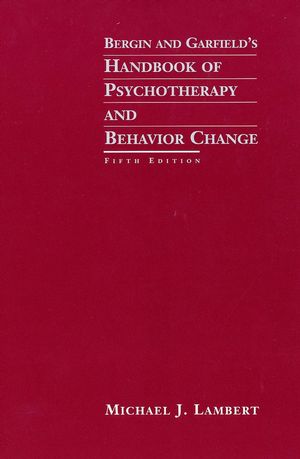 Bergin and Garfield's Handbook of Psychotherapy and Behavior Change, 5th Edition
ISBN: 978-0-470-46549-3 March 2009 864 Pages
Description
One of the most important overviews of research findings in the field, this book has had an enormous impact on psychotherapy and has become a standard reference for citation and practice. This updated and revised fifth edition keeps pace with the rapid changes that are taking place in the world of psychotherapy and makes recommendations for future research and practice.
* Highlights the many weaknesses of traditional science for understanding human dilemmas and emotional problems
* Incorporates the latest developments and reflects important changes in the field
* Emphasizes practice-relevant findings, as well as methodological issues that will help direct future research
Part I: HISTORICAL, METHODOLOGICAL, ETHICAL, AND CONCEPTUAL FOUNDATIONS

* Introduction and Historical Overview, Michael J. Lambert, Allen E. Bergin and Sol L. Garfield
* Methodology, Design, and Evaluation in Psychotherapy Research,Phillip C. Kendall, Grayson Holmbeck, and Timothy Verduin
* Theoretical Challenges to Therapy Practice and Research: The Constraint of Naturalism, Brent D. Slife
* Methodological Issues in Studying Psychotherapy Processes and Outcomes, Clara E. Hill and Michael J. Lambert

Part II: EVALUATING THE INGREDIENTS OFTHERAPEUTIC EFFICACY

* The Efficacy and Effectiveness of Psychotherapy, Michael J. Lambert and Benjamin M. Ogles
* Research on Client Variables in Psychotherapy, John F. Clarkin and Kenneth N. Levy
* Therapist Variables, Larry E. Beutler, Mary L. Malik, Shabia Alimohamed, T. Mark Harwood, Hani Talebi, Sharon Noble, and Eunice Wong
* Process and Outcome in Psychotherapy, David E. Orlinsky, M. Helge Ronnestad, and Ulrike Willutzki

Part III: MAJOR APPROACHES

* Behavior Therapy with Adults, Paul M. G. Emmelkamp
* Cognitive and Cognitive-Behavioral Therapies, Steven D. Hollon and Aaron T. Beck
* Research on Experiential Psychotherapies, Robert K. Elliott, Leslie S. Greenberg and Germain Lietaer

Part IV: RESEARCH ON APPLICATIONS IN SPECIAL GROUPS AND SETTINGS

* Psychotherapy for Children and Adolescents, Alan E. Kazdin
* Levels of Evidence for the Models and Mechanisms of Therapeutic Change in Family and Couple Therapy, Tomas L. Sexton, James F. Alexander, and Alyson L. Mease
* Small Group Treatment: Evidence for Effectiveness and Mechanisms of Change, Gary M. Burlingame, K. Roy MacKenzie, and Bernhard Strauss
* Behavioral Medicine and Health Psychology, Thomas L. Creer, Kenneth A. Holroyd, Russell E. Glasgow, and Timothy W. Smith
* Medication and Psychotherapy, Michael E. Thase and Ripu D. Jindal
* Research on Psychotherapy with Culturally Diverse Populations, Nolan Zane, Gordon C. Nagayama Hall, Stanley Sue, Kathleen Young, and Joel Nunez

Part V: SUMMATION

* Overview, Trends, and Future Issues, Michael J. Lambert, Sol L. Garfield, and Allen E. Bergin
New contributors include: James F. Alexander, Gary M. Burlingame, John F. Clarkin, Thomas L. Creer, Robert K. Elliott, Russell E. Glasgow, Leslie S. Greenberg, Grayson Holmbeck, Kenneth A. Holroyd, Ripu D. Jindal, Phillip C. Kendall, K. Roy MacKenzie, Alyson L. Mease, Kenneth N. Levy, Germain Lietaer , Benjamin M. Ogles, Tomas L. Sexton, Brent D. Slife, Timothy W. Smith, Bernhard Strauss, Michael E. Thase, and Timothy Verduin.
A new chapter highlights the many weaknesses of traditional science for understanding human dilemmas and emotional problems.
Updated and revised to reflect recent changes in the field.
One of the most important overviews of psychotherapy research findings.
Includes contributions from some of the leading figures in the field.
Emphasizes practice-relevant findings, as well as methodological issues that will help direct future research.