Best Practices in Adult Learning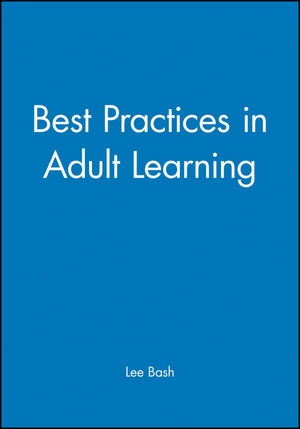 Best Practices in Adult Learning
ISBN: 978-0-470-64334-1
Mar 2005, Jossey-Bass
214 pages
Description
Institutions of academia are experiencing a schism when it comes to adult learners—some recognize and foster the dynamism of this student population while others harbor animosity and frenetic attitudes toward adult learners. There is a compelling need to find benchmarks against which to compare and improve programs, while still maintaining the fast-paced competition for adult learners. This book identifies the best practices necessary to bring adult learning programs to a new level—especially as the stakes among competitors continue to rise.

Best Practices in Adult Learning sets the stage by addressing institutional vision, asking the question "What do I want my program to contain or deliver?" It then provides a hands-on set of applications that are designed to strengthen daily practices, while underscoring the importance of faculty development to maintaining the health and vitality of successful adult programs. Next it presents straightforward, diverse, and immediate technological applications for adult learning programs, and finally it gives special attention to the increasing importance of senior learners—the fastest growing demographic in America today.

This book is written for faculty and administrators already committed to adult learners but looking for that focused, hands-on guidance and applications for implementing principles of best practices in an adult learner–focused unit or institution. Rather than a cookie-cutter approach, these are the lessons learned over time from some of the most experienced practitioners in the field.
About the Authors.
Preface.
Part I: laying the Foundation for Best Practices.
1. Applications of Multiple Intelligences for Adult Learners (Linda Anderson).
2. Bridging the Gap: Improving Graduation Rates in a Degree Completion Program (Sean Warner).
3. Program Planning and Review in Adult Higher Education: Using Program Models Effectively (Patricia R. Brewer).
Part II: Defining Moments in Adult Learner Programs.
4. Strategic Partnerships: Successfully Managing Collaborative Ventures in Adult Education (Bruce Pietrykowski).
5. Recruiting and Admitting Adult Learners: They're Not Just Older—They're Different (Iris H. Kelsen, Lawrence T. Lesick).
6. Adult Learner Advising: the Vital Link (Sue Grunau).
7. the Introductory transformation Course for Adult Learners: Critical and Essential (Lee Bash).
Part III: Faculty Development: A Key to Instructional Effectiveness.
8. Adjunct Faculty Training (Stuart Noble-Boodman, W. Hubbard Segur).
9. Assuring Instructional Effectiveness. (Walter Pearson).
Part IV: Technological Applications.
10. The Role of Distance Education in Enhancing Accessibility for Adult Learners (Karen I. Rhoda).
11. Computer-Mediated Communication: A Quest for Quality (Margie Martyn).
Part V: Adult Learning Includes Senior Learners.
12. Meeting the Needs of Older Adult Learners: The Development of a Learning in retirement Institute (Charlene L. Martin).
Index.