Best Practices in Lean Six Sigma Process Improvement: A Deeper Look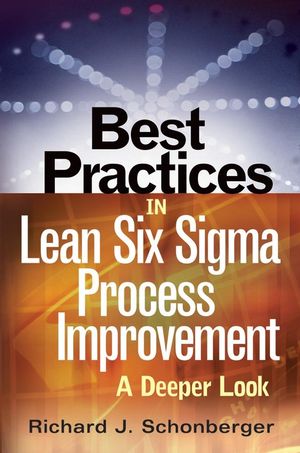 Best Practices in Lean Six Sigma Process Improvement: A Deeper Look
ISBN: 978-0-470-22375-8 March 2008 304 Pages
Description
Best Practices in Lean Six Sigma Process Improvement reveals how to refocus lean/six sigma processes on what author Richard Schonberger—world-renowned process improvement pioneer—calls "the Golden Goals": better quality, quicker response, greater flexibility, and higher value. This manual shows you how it can be done, employing success stories of over 100 companies including Apple, Illinois Tool Works, Dell, Inc., and Wal-Mart, all of which have established themselves as the new, global "Kings of Lean," surpassing even Toyota in long-term improvement.
Preface.
Part I. Hypercompetition.
Chapter 1. Magnitude Advances In Competitive Standards And Technologies.
Chapter 2. Global Leanness -- An Unstable Phenomenon.
Chapter 3. Big Question: Does Lean Beget Financial Success? (A Short Chapter).
Chapter 4. Ultimate Trend: Improving The Rate Of Improvement.
Part II. Improvement Gone Wrong -- And Made Right.
Chapter 5. Waste Elimination, Kaizen, And Continuous Improvement: Mis-Defined And Misunderstood.
Chapter 6. The Metrics Trap.
Chapter 7. The Case Against (Much Of) Management Goal-Setting.
Part III. A Competitive Fortress.
Chapter 8. Fortress By Culture.
Chapter 9. Vengeful Numbers.
Chapter 10. Process Improvement: Stretching Company Capabilities.
Chapter 11. Unique Business Models (Big Ideas).
Part IV. What Goes Wrong: Impressive Companies And Their Weak Spots.
Chapter 12. Does Rapid Growth Put The Brakes On Lean?
Chapter 13. Losing Their Way—Or Not.
Part V. Leanness: A Changing Landscape.
Chapter 14. Global "Lean" Champions: Passing The Torch.
Chapter 15. How Overweight Companies Get Lean.
Chapter 16. Flow-Through Facilities.
Chapter 17. External Linkages.
Part VI. Why Industries Rank Where They Do.
Chapter 18. Leanness Rankings For 33 Industrial Sectors.
Chapter 19. Electronics: A Metamorphosis.
Chapter 20. Motor-Vehicle Industry: Earliest But Lagging.
Chapter 21. Aerospace-Defense: OEM's Soaring, Suppliers Not.
Chapter 22. Other Industries.
Epilogue.
Index.
"Pitfalls and opportunities are explained in straightforward terms that help managers to steer process improvement efforts towards sustained advantage. Schonberger reveals how to refocus lean and Six Sigma processes on what he calls the 'golden goals': better quality, quicker response, greater flexibility and higher value." (
Worksmanagement.co.uk
, August 2008)
"This book makes the case that "lean won't work without quality", and to that end the author focuses on the companies that have achieved "the world's longest, steepest rates of improvement in leanness" companies like Dell, Wall-Mart. The book poses a curious semantical analysis of the term supply chain management suggesting that the emphasis on the word supply implies that it is the customers' job to manage and improve relations with their suppliers." (IndustryWeek.com, July 2008)