Best Practices in Planning and Performance Management: Radically Rethinking Management for a Volatile World, 3rd Edition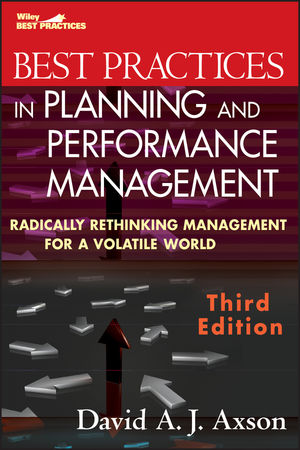 Best Practices in Planning and Performance Management: Radically Rethinking Management for a Volatile World, 3rd Edition
ISBN: 978-1-119-20303-2
Oct 2015
320 pages
Description
A practical framework for effectively managing performance in today's complex, competitive and risky global markets
The Third Edition provides a complete framework for building best practice management processes for today's complex and uncertain world. Fully updated to reflect the events of the global economic crisis, this book provides further practical examples of companies that are successfully using the practices identified.
Updated for the implications of the global economic crisis on management practices
Completely rewritten section on "What it Takes To Be An Effective Manager In An Uncertain World
Added examples and mini case studies throughout the book from companies such as Qualcomm, IBM, Dominos, Target, Toshiba and Facebook
Establishes new benchmarks for performance management process and practice
Fully updated to include recent events, new learnings, technologies and emerging best practices
This book includes serious rethinking of the way companies plan and manage performance-from the role of accounting to the skills needed to be an effective manager-including new technologies, techniques and real time management processes.
Preface to the First Edition.
Preface to the Third Edition.
Acknowledgments.
Introduction.
PART ONE Why Performance Management Matters.
1 Traditional Management Processes Are Obsolete.
Better-Informed Customers.
Changing Market and Business Models.
Structural Change in the Economics of Business.
Globalization.
Regulatory Revolution.
Growth through Acquisition as the Normal Course of Business.
Redefining Asset Values.
Changing Delivery Channels.
Compressed Cycle Times.
Vast New Information Sources.
Technology and Systems.
Need for a Burning Platform.
2 What Is Performance Management?
Defining Performance Management.
Best Practices Defined.
Types of Best Practice.
Applying Best Practices.
Best Practice Adoption Is Now a Necessity.
3 Sizing the Opportunities.
Beyond Benchmarking.
Defining the Right Metrics.
Conclusion.
PART TWO Best Practices.
Chapter 4 Using Best Practices to Drive Change.
A Brief History.
From Battlefield to Boardroom.
Components of a Best Practice Framework.
Best Practice Recipe.
Selecting the Right Best Practices.
Golden Rule of Best Practice Application.
Time to Sacrifice a Few Sacred Cows.
No Silver Bullets.
5 Strategic Planning: Ideas That Drive Results.
Defining Strategy.
Typical Process.
Strategic Planning Best Practices.
Communicate, Communicate, Communicate.
Strategic Planning Is a Collaborative Process.
CEO as Chief Strategist.
Hard Side of Strategy.
Acid Test.
Lessons for a Volatile World.
Best Practice Summary.
6 Tactical and Financial Planning: Translating Strategy into Action.
Defining Tactical and Financial Planning.
Typical Process.
Tactical Planning Best Practices.
Financial Planning Best Practices.
Lessons for a Volatile World.
Best Practice Summary.
7 Management Reporting: From Information to Insight.
Typical Process.
Management Reporting Best Practices.
Putting It All Together.
Lessons for a Volatile World.
Best Practice Summary.
8 Forecasting: Pass the Crystal Ball.
Typical Process.
Forecasting Best Practices.
Understand Variability.
Lessons for a Volatile World.
Best Practice Summary.
Chapter 9 Risk Management: Place Your Bets.
No Excuses.
Global Interdependence.
Developing an Effective Business Risk Management Capability.
Risk Mitigation Techniques.
Lessons for a Volatile World.
10 Technology: Panacea or Pain?
Evolution of Information Technology in Business.
Why the Time for Convergence Is Right.
Applying Technology to Performance Management—Dawn of the Digital Manager.
Best Practices for Leveraging Technology.
Lessons for a Volatile World.
Best Practice Summary.
PART THREE Moving from Data to Decisions.
11 Implementing Best Practices.
Getting Started.
Moving to Implementation.
Understand the Overall Strategic Goals and Objectives.
Define the Critical Success Factors and Drivers.
Define the Appropriate Performance Measures.
Link Measures to the Overall Strategy.
Define the Reporting Dimensions.
Detail and Source the Performance Measures.
Design the User Experience.
Design and Build the Reporting Process.
Integrate the Reporting and Planning Processes—Align Incentives.
Develop the Required Skills.
Chapter 12 Implementation Secrets.
Learn from the Mistakes of Others.
Effect Change and Then Sustain It.
It's about Commitment and Execution.
13 Managing in an Uncertain World.
Leadership Qualities.
Don't Underestimate the Impact of Leaders.
14 Looking to the Future.
Fast, Flawless Execution Will Be the Distinguishing Characteristic of World-Class Companies.
Global Accounting and Reporting Standards Will Become a Reality.
The Focus Will Shift from Buying Technology to Using It.
The Annual Budget Will Die—and Few Tears Will Be Shed.
Finance Executives Will Require New Skills or New Jobs.
Final Thoughts.
About the Author.
Index.