Beverage Basics: Understanding and Appreciating Wine, Beer, and Spirits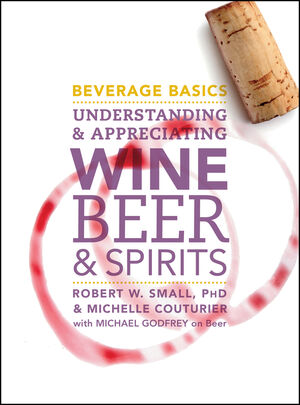 Beverage Basics: Understanding and Appreciating Wine, Beer, and Spirits
ISBN: 978-0-470-13883-0 September 2011 468 Pages
Description
Beverage Basics presents a new approach to understanding wine and other alcoholic beverages. The book includes an introduction to alcoholic beverages, information on important issues such as purchasing beverages, healthy drinking, and alcohol and the law, and an introduction to wine including viticulture, viniculture, and the sensory evaluation of wine. The authors teach readers about wines by varietal as opposed to appellation, which is a much simpler entry point for beginners to the world of wine. In addition to all the major wine varietals (Chardonnay, Sauvignon Blanc, Cabernet Sauvignon, Merlot, etc.), the book also covers hybrid and Native American varieties, sparkling wines, and dessert and fortified wines. Chapters on beer and distilled spirits include information on making, purchasing, and evaluating beer and spirits. The appendices include map-filled sections on The Old World and The New World of wine, as well as a thorough examination of the TTB requirements for alcoholic beverage labels, and a complete glossary of terms. Author Robert Small is former Dean and Emeritus Professor of The Collins College of Hospitality Management at California State Polytechnic University, Pomona, where he still teaches courses on wine, spirits, and beer and on beverage marketing and food and beverage management, and is the Chairman of the Los Angeles International Wine competition, one of the largest and most prestigious wine competitions in the United States.
Acknowledgments.
Preface.
Chapter 1: Introduction to Alcoholic Beverages.
Chapter 2: Alcohol and the Law.
Chapter 3: Healthy Drinking.
Chapter 4: Viticulture - Growing Grapes.
Chapter 5: Viniculture - Making Wine.
Chapter 6: Sensory Evaluation of Wine.
Chapter 7: Chardonnay.
Chapter 8: Sauvignon Blanc.
Chapter 9: Riesling.
Chapter 10: Other White Vinifera Grape Varieties.
Chapter 11: Cabernet Sauvignon.
Chapter 12: Merlot.
Chapter 13: Pinot Noir.
Chapter 14: Syrah.
Chapter 15: Other Red Vinifera Grape Varieties.
Chapter 16: Hybrid and Native American Varieties.
Chapter 17: Sparkling Wines.
Chapter 18: Dessert and Fortified Wines.
Chapter 19: Beer.
Chapter 20: Distilled Spirits.
Chapter 21: Purchasing Alcoholic Beverages.
Appendix 1: Old World Wine Regions.
Appendix 2: New World Wine Regions.
Appendix 3: TTB Requirements and Regulations for Alcoholic Beverage Labels.
Glossary.
Index.